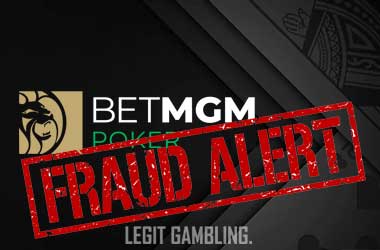 Summary
Well-known pros have lost up to $10K each in a bank account sting
The scammer used online poker and casino sites including BetMGM Poker
Todd Witteles was among the victims and lost $10K
Several prominent poker pros have fallen victims to an apparent bank account sting, with the fraudster stealing up to $10,000 from each player.
Todd Witteles, the founder of PokerFraudAlert, revealed in a recent tweet that he was one of those targeted and urged others who may have gone through a similar experience to reach out to him.
How the Scammer Does It
Witteles, who is aggressively investigating the issue, has described it as a combination of bank account fraud and identity theft, conducted via online poker and casino sites.
I was also a victim for $10k, and I have been working hard for the past week investigating this. Please get a hold of me if you were a victim, as I already have some leads.

DM me or text me at 775-372-8355. https://t.co/Pk4f3tza1S

— Todd Witteles (@ToddWitteles) November 15, 2022
The scammer simply obtains a player's full name, address, date of birth, and the last four digits of his or her social security number and then uses them to create a new account on legalized online gambling platforms. To conceal the deception, the fraudster usually sets up an account in locations where the target victim has no existing account.
In his probe, Witteles determined the entities used by the fraudster to carry out the crime. Electronic cash access services provider Global Payments Gaming Solutions appeared to be the main pathway for the theft, with the scammer also using Venmo to withdraw the stolen money.
According to Witteles, Global Payments processes deposit transactions for multiple online gambling sites in the US, including WSOP.com and BetMGM, both of which were mentioned in recent accounts from some players who also lost money through the same scam.
Wow!! It turns out that it is INCREDIBLY EASY to steal from people's bank accounts via Global Payments, which is used by most legalized gambling apps. You just need some basic personal info! @WSOPcom and @BetMGM use this system!

Read this: https://t.co/rGFYt22u5q

— Todd Witteles (@ToddWitteles) November 16, 2022
Multiple Poker Pros Victimized
Poker pros Joseph Cheong and Sam Panzica were among the victims, losing $9.8K and $1.9K respectively via BetMGM. Kyna England shared that she also got robbed, this time through some third-party online casino linked to her WSOP account.
This happened to me too through some third party online casino connected to my WSOP account. I have to fill out fraud paperwork and get a police report.

— Kyna England (@Kyna_CooL) November 15, 2022
Other players targeted by the scam include David Bach and Brock Wilson.
Witteles himself lost $10K and the scammer had planned to steal more from him, with three accounts created in his name in three different east coast states. As soon as Witteles found out about it, he managed to terminate the other two accounts. Had Witteles not acted immediately, the fraudster would have made off with plenty more cash from him.
Witteles believes popular pros are the main target of the scam though he still warned everyone to keep a close eye on their accounts, take steps to prevent fraud, or quickly report if they've been victimized.