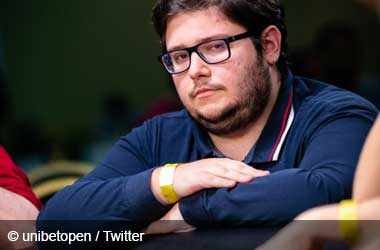 The Microgaming Poker Network Poker Tour (MPNPT) @ Battle of Malta gained a lot of attention as players from all over Europe attended the poker tournament which took place at Casino Malta.
Tournament organizers were more than happy with the response which saw 3,816 players register for the Battle of Malta Main Event. Players came from all over including the United States, Lebanon, Denmark, UK, Lithuania, France and the Netherlands. The action went on for six tiring days and in the end it was local Maltese player Julien Stropoli who went on to beat a great field and come out on top.
Top Five Players Cashout With 6 Figures
After 5 days of serious poker action, the field of 3,816 players was reduced to just 9 and they showed up on day 6 with a renewed intensity and passion to make it to the final 5 as the top 5 players at the table were set to walk out with 6 figures for their efforts. After some great play, the 5 players left at the table were Abdallah Fakhreddine, Mantas Urbonas, Erik Ostergaard, Maxime Canevet and Julien Stropoli.
These five players quickly decided to work out a deal amongst themselves were the prize money would be broken down so that Stropoli would get €118,500, Canevet would get €169,000, Abdallah would take €108,500, Ostergaard would receive €139,500 and Urbonas €121,500. In addition to this, the player who finished in first place would receive an additional €50,000 and the player who came in second would get another €23,000.
Casino Malta by Olympic Casino
Top Two Players Could Have Made More Money
The final three players left at the table were Ostergaard , Stropoli and Canevet. The third place went to Ostergaard and Stropoli and Canevet battled it out to see who would come out on top. In the end it was Stropoli who finished in first place and took home a total of €168,500 while Canevet went home with €192,000.
By making the deal, the five players took a safer approach and will be happy with their efforts. However, if the deal was not made and they played off for the original prize money, Canevet would have finished with €170,000 while Stropoli would have taken home a
whopping €300,000 for his efforts.
The MPNPT will now take a break for the remaining of 2018 and will be back again next year with the first stop scheduled to take place in January in Tallinn, Estonia.