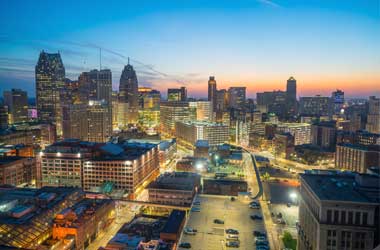 Sports bettors in Michigan will finally be able to place bets on their favorite sports from this week. The Michigan Gaming Control Board (MGCB) announced that sports betting will be available at Detroit's commercial casinos from March 11. Since the other casinos in the state are controlled by the local tribes, it will be up to them when they will start offering sports betting.
Everyone knew it was coming but the MGCB had to look over the casino operator's presentations to see whether they met all the requirements.
Provisional licenses were already issued to the operators so that they can have betting kiosks but the MGCB needed to check them over to make sure that no one was being neglectful of their responsibilities.
MGM Grand Detroit is ready to receive all the potential sports bettors with two rows of betting kiosks. These are located right outside the Moneyline Sports Lounge which opened last October. MGM already announced that they would be bringing in some local sports celebrities for the sportsbooks' official launch.
Click On Detroit | Local 4 | WDIV
While retail sports betting will kick off this week, the same cannot be said of online sports betting. Though state legislation allows online sports betting, approval for online betting operations is going to take longer since the checks need to be more thorough. Experts estimate that the earliest online sports bet in Michigan will be only in 2021.
Competition From Neighboring Illinois
While Michigan prepares for sports betting to go live, the state will also have to prepare from neighbouring competition. The state of Illinois will start taking legal sports bets on March 9 and will look to tap into the Michigan market is possible.
The betting industry in Illinois sports will commence with the launch of the BetRivers Sportsbook at Rivers Casino. They will be holding a ceremonial opening at 10 AM on 09 March and the wagers will start to be taken at noon. Local sports legend, Eddie Olczyk who had a good run as a Chicago Blackhawks player will be present to kick off Illinois sports betting market.
Interest in sports betting operations in Illinois is high, with several operators making plans to launch operations. The same situation prevails in Illinois as only retail sports betting will be up and running this week. However, they plan to launch online sports bets before the end of 2020.