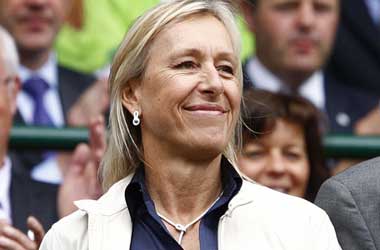 When it comes to tennis royalty in the women's game, they don't get any bigger than Martina Navratilova. Tennis Magazine voted her the greatest tennis female player between 1975 and 2005 and her 18 Grand Slam wins speak for themselves.
The 62 year old Tennis great who is bisexual recently shared her views on transgenders competing in sport after one of her followers asked her a question on Twitter.
In a Tweet, Navratilova said
Clearly that can't be right. You can't just proclaim yourself a female and be able to compete against women. There must be some standards, and having a penis and competing as a woman would not fit that standard.
There are a lot of professional athletes who feel the same way as they believe a transgender man who competes as a woman has an unfair advantage over the rest of the competition. Ronda Rousey who competed in Judo as an Olympian and then moved on to Mixed Martial Arts (MMA) in the UFC believed that it would be dangerous if a transgender man faced a woman in an MMA fight due to differences in size and strength.
RT America
Transgender's Go After Navratilova On Social Media
Navratilova's comments did not go down the right way with the transgender community on social media and a number of professional transgender athletes reacted strongly and fired away on Twitter.
Rachel McKinnon, a transgendered woman who won the UCI Masters track cycling world championships in October turned out to be the biggest critic. McKinnon was born male but decided she was female in her 20s and started competing with women. Her recent win at the UCI Masters stirred up controversy as she towered head and shoulders above other women.
McKinnon who is a transgender activist made a strange argument stating that genitals have no role to play in sports as a penis cannot make a difference to the game. She also continued to go after Navratilova on Twitter and did her best to intimidate the tennis great.
No, you are not "pro- trans people" if you say that trans women with a penis must not compete in women's sport. That's transphobic.

Genitals do not play sports. What part of a penis is related to tennis? How does that 'level' any playing field? https://t.co/h7ZLsCVOQy

— Dr. Rachel McKinnon (@rachelvmckinnon) 20 December 2018
While McKinnon's argument is flawed in so many different ways, Navratilova did end up deleting her original tweet and sending out an apology to the transgender community. She also said that she will stay quiet on the issue till she learns more about it and stated that she is pro-trans people.