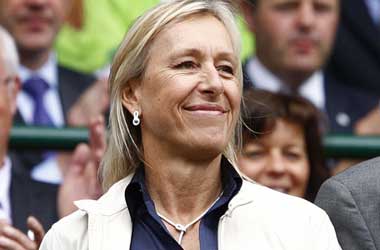 Summary
Martina Navratilova tells Piers Morgan she is now cancer free
Tennis great won her second bout with cancer after battling two unrelated cancers
Cancer battle has forced Navratilova to abandon her adoption plans
British journalist Piers Morgan has brought on some of the biggest sportstars in the world in recent months to give the world breaking news on their opinions and real life updates.
Cristiano Ronaldo was a prime example as his explosive interview on Piers Morgan Uncensored was responsible for him parting ways with Manchester United.
Martina Navratilova On Piers Morgan Uncensored
Piers Morgan's latest interview was with tennis great Martina Navratilova who sat down and was very transparent with her latest battle with cancer. The 18 time Grand Slam winner battled cancer back in 2010 and beat the disease after a 6 month battle.
Tennis fans were shocked last year when Navratilova revealed that she was once again diagnosed with cancer but this time around she was battling two different (unrelated cancers). One of the cancers was diagnosed as breast cancer and the second was a HPV throat cancer which was at Stage 1.
The 66 year old said that it was a very difficult stage in her life and there were times when she did not think that she would get past Christmas. However, she kept fighting and was recently informed by her doctor that she had beaten both cancers once again and would be done with her treatment after one more final radiation on her breast.
Martina Navratilova on the moment she was told about her double cancer diagnosis.

"I'm like, oh great I have another cancer. That's when I started crying on the table."

Watch the global EXCLUSIVE from 8pm TONIGHT on TalkTV.pic.twitter.com/RDTEggWDR3

— TalkTV (@TalkTV) March 21, 2023
Navratilova Will Not Proceed With Baby Adoption Plans
Navratilova also revealed that she and her wife Julia Lemigova were seriously looking to adopt a child before she was diagnosed with cancer. Navratilova and the 50 year old Lemigova who acts in the "The Real Housewives of Miami" reality show said they were very close to adopting a child but have now dropped those plans.
Navratilova was very candid with Piers Morgan and got emotional when she said that they are not going to move forward with the adoption process as she no longer has the energy to raise a child.
Lemigova said that they made the decision to not move forward with the adoption as the decision has to do with what is the best for the child. The focus right now would be on getting Martina Navratilova healthy again!