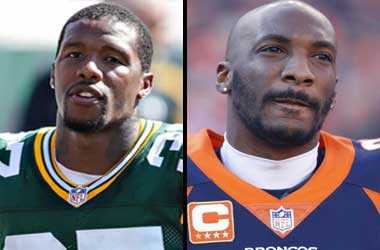 The Los Angeles Rams had reportedly signed deals with former Green Bay Packers cornerback Sam Shields and Denver Broncos cornerback Aqib Talib.
The Rams have made it clear they wanted to strengthen their defense for the next season of the NFL and have done well by bringing in veterans Sam Shields and Talib.
The Rams had a decent season this year but that wasn't good enough for coach Sean McVay who completed his first season with the Rams. The Rams did well to a certain extent winning the NFC West and leading the scoring in the NFL. However when you look at the stats, it is easy to see areas where the Rams have to improve going into the new season.
The Rams fell behind in defense ranking 12th in scoring defense, 13th in passing defense, 19th in total defense and 28th in rushing defense. They did a lot better in takeaways ranking in 5th place. Rams GM Les Snead was on the lookout to strengthen the defense and he believes Shields and Talib will be a big boost.
In a statement, Snead said:
"You'd love to spend some time this offseason and focus on that defense. Because I do think with the offense where it's at and I think it will continue evolving where special teams and [coordinator John Fassel] has it, if we really, really get that defense to where it definitely, ideally fits Wade's scheme."
Rams Want To Be Dominant This Season
The scheme that Snead is referring to is that of defensive co-ordinator Wade Philipp's who has a 3-4 scheme in mind. Snead knows that if the Rams can sort out their defensive issues, they could become a dominant team in the NFL and push for a place in the Super Bowl.
The experienced due of Shields and Talib will not just strengthen the defensive but also add tremendous experience to the Rams. The 32 year old Talib has over 10 years of experience in the NFL and was part of the Bronco's 2015 Super Bowl win. The Rams signed him for $11 million for the 2018 season and $8 million for 2019. Shields was a key member for the Green Bay Packers during 2010 to 2015 but did not play in the 2016 season due to a concussion injury.