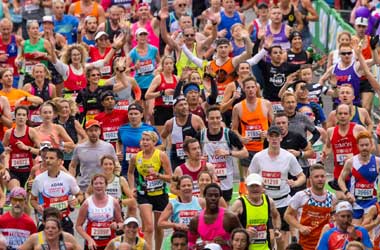 Summary
Organizers of both events added the new division to promote inclusion and diversity
The move has been welcomed by non-binary athletes
Several other major races have already added a non-binary category for their respective events
Athletes who are planning to compete in the 2023 London and Boston marathons and who identify as non-binary will not be required to register under the men's or women's divisions. The organizers of the two events have added a new non-binary gender option for next year.
Hugh Brasher, director of the London Marathon, said the move is aimed at enhancing diversity in the competition and making it an event for everyone. He noted though that the non-binary option would not apply to those participating in the elite events.
Meanwhile, the Boston Athletic Association (BAA) said the non-binary category was added to further promote inclusion at all BAA events. The organization said they're continuing to hold talks with non-binary athletes on the matter.
Non-binary runners keen on joining the Boston Marathon would be required to follow the qualifying times being implemented for the women's division as the BAA still needs to gather more data to come up with qualifying times for the non-binary bracket.
The organization said it would update the standards once things are sorted out. Non-binary athletes can expect to see new qualifying times intended for them in future athletic races. The BAA did not clarify if it would implement a specific policy for transgender applicants.
New Changes Welcomed
The new changes are welcomed by non-binary runners, including Nikki Hiltz. The pro miler and 1,500 runner, who recently came out as non-binary and transgender in 2021, said they're happy that the BAA has now acknowledged non-binary athletes, though there's still a lot to be done.
The registrations for next spring's Boston Marathon opened on September 11. Organizers are expecting to cater to an estimated 30,000 runners for the popular race which returns for its 127th edition on April 17, 2023. The London Marathon takes place six days later on April 23.
The London and Boston Marathons are the latest major marathons to introduce the non-binary division. In 2021, non-binary athletes were allowed to compete in the Philadelphia Distance Run and were offered the same prize money as the men's and women's divisions. In April this year, the Half Marathon and the Brooklyn Marathon also followed suit.
Over 200 races throughout the United States have already added a non-binary category in their respective events. That's according to runner Jake Fedorowski who was sponsored by the Seattle Frontrunners and Road Runners Club of America to generate an online guide to non-binary inclusion in marathons.