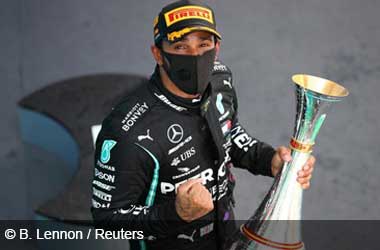 As predicted Lewis Hamilton showed why he is the best in the world as he not only beat his competitors but also the scorching heat to win the Spanish Grand Prix on Sunday.
He was dominant in his performance and was in front during every lap from pole position. Hamilton finished in first place and was well ahead of Max Verstappen who finished in second place.
The Brit has dominated the F1 circuit since 2017, winning three consecutive World Championships in 2017, 2018 and 2019. Hamilton is on top of the points table with 132 points after the Spanish Grand Prix and looks poised to win the 2020 World Championship.
Max Verstappen is second on the points table with 95 points and knows that it is getting harder for him to overtake Hamilton and challenge his for the 2020 World Championship. Valtteri Bottas who is third on the points list with 89 points finished in third place at the Spanish Grand Prix.
Hamilton continues to add to his legacy and will be eager to win the 2020 World Championship as it will help him tie the record (7) with legend Michael Schumacher for the most number of World Championships. Hamilton has every opportunity to draw level with Schumacher in 2020 and then go on to surpass that record in 2021 as Schumacher retired in 2012 and is very unlikely to race again.
Sky Sports F1
The win on Sunday gave Hamilton his 156th podium finish and created a new record for the most number of podium finishes – the previous record was held by Schumacher. This was also the 88th Grand Prix victory for Hamilton and he is now just 3 more wins away from taking the record of all-time wins away from Schumacher.
Hamilton Continues To Support BLM
Hamilton has been very vocal in his support for the Black Lives Matter (BLM) movement and has called out some of his F1 teammates for keeping silent on the issue. Hamilton is slowly getting more support from the F1 community as 12 drivers joined Hamilton at the Spanish Grand Prix and took a knee to show support to the BLM movement.
The Brit is the only black F1 driver on the circuit and is very keen on winning the 2020 World Championship as he believes it will send a strong message of support to BLM. Hamilton wore the BLM logo on his helmet and will continue to take a knee before every Grand Prix.