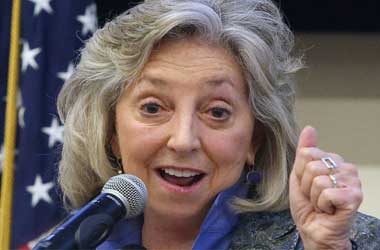 U.S. Representative Dina Titus from the Nevada District has asked the federal government to keep online gambling legal. Titus wrote to the Deputy Attorney General Rod Rosenstein about maintaining the 2011 Justice Department ruling on the Fed Wire Act of 1961 that allowed individual states to make a decision on internet gambling.
The DOJ ruling on the Fed Wire Act was the ruling that said that online gambling that did not involve sporting events and did not violate the Wire Act. This gave each individual state the decision to approve or ban online gambling. So far Nevada, New Jersey, Delaware and Pennsylvania have legalized online gambling and there are a number of states holding discussions about lifting the ban on online gambling.
Anti-Online Gambling Groups Want DOJ To Amend Fed Wire Act
The Fed Wire Act is once again the center of attention as a number of lawmakers and attorney generals have written to the DOJ and the Trump administration calling for the Fed Wire act to be amended and for online gambling to be banned throughout the U.S. Though there have been no indications that the Justice Department is thinking about doing it, many gambling companies have already expressed concern about a possible reversal on that ruling.
During the 2016 presidential campaign, Donald Trump was asked about his position on internet gambling and he said he had no position. This was mostly because he said he had friends on both sides of the issue. However, many are concerned as it is common knowledge that one of Trump's major donors is Sheldon Adelson, a casino tycoon who is financing the 'Coalition To Stop Internet Gambling.'
Licensed Gambling Better Than Illegal Gambling
Titus has pointed out that there are numerous benefits of regulating online gambling as it protects players, creates job opportunities and gives each state an additional stream of revenue in the form of gaming taxes. If online gambling is banned, then the illegal gaming industry will flourish and cause a lot more harm.
In a statement, Titus said:
"In Las Vegas, we have seen that a regulated market is always better than an illegal one. Internet gambling will not go away with a reversal of Wire Act guidance; it will merely push more consumers into black markets."
Internet gambling has become a powerful market force, especially in New Jersey. It has helped boost the revenues of Atlantic City's seven casinos during the three-year period in which the local gambling industry was in a slump. The additional revenue could make a difference between a low-earning and high-earning month.
The DOJ is yet to confirm if it has reviewed Titus's letter and whether it will review the Fed Wire Act