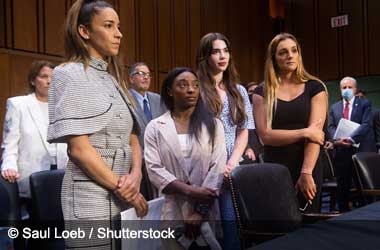 Summary
Larry Nassar class-action lawsuit finally settled
$380 million to be paid out to the abuse survivors
Total of $880 million paid out overall
USA Gymnastics and U.S. Olympic & Paralympic Committee have finally decided to settle the class-action lawsuit that they were facing over the Larry Nassar sexual predator case.
The case was finally settled this week when the USA Gymnastics and U.S. Olympic & Paralympic Committee agreed to pay out a total of $380 million to the abuse survivors.
Larry Nassar Victims To Share $380 Million
The Larry Nassar scandal came to light over 5 years ago when Olympian Jamie Dantzscher came forward and spoke of the horrific sexual abuse she suffered at the hands of the former Olympian doctor. He volunteered his services and served as an Olympian medical team coordinator from 1996.
During this period of time he went on to abuse hundreds of girls. This came to light after more than 500 victims came forward once they learned that Dantzscher was pursuing legal action including Olympic gymnasts Aly Raisman, Simone Biles, McKayla Maroney and Maggie Nichols (pictured). The class-action lawsuit claimed that even when complaints were raised against Nassar, the USA Gymnastics and U.S. Olympic & Paralympic Committee did not take them serious and stop Nassar.
New York Post
The lawsuit dragged on for five years and it was a tough case for everyone involved. Nassar finally admitted in 2017 to child pornography and a year later to sexually assaulting those under his care. He received a sentence of more than 100 years and will spend the rest of his life in prison.
The abused survivors can now hopefully move on as the USA Gymnastics and U.S. Olympic & Paralympic Committee have not only agreed to pay out $380 million but have also agreed to settle a number of other non-financial requests.
Over $880 Million Paid Out So Far
Michigan State University has already paid out $500 million for failing to protect the victims from Nassar and with the additional $380 million settlement; a total of $880 million has now been paid out, making this the biggest single settlement due to a single sexual predator.
USA Gymnastics released an official statement after the settlement was announced and issued an unconditional apology for being complacent and not doing enough to protect their athletes. USA Gymnastics has committed to implementing a restorative justice program to give the survivors the opportunity to influence how USA Gymnastics addresses potential sexual assault complaints going forward.
Statement from USAG President and CEO Li Li Leung. pic.twitter.com/K2CEHJjQ3s

— USA Gymnastics (@USAGym) December 13, 2021