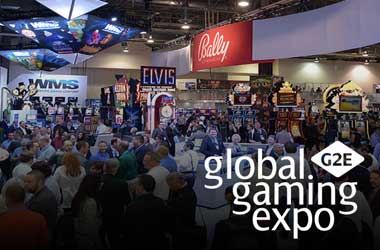 The Global Gaming Expo (G2E) takes place in Las Vegas, Nevada every year amidst a lot of hype and publicity as casino operators, key stakeholders and multiple vendors from the gaming industry head over to the Sands Expo at the Venetian Las Vegas to network and see what are the latest developments and technology that will be rolled out in the gaming industry.
The G2E is hosted by the American Gaming Association (AGA) and Reed Exhibitions and runs from October 3 to 5. One of the most important features of the G2E is the conference and seminars that take place from October 2 to 5 and see top keynote presentations which are highly educational. The G2E officially kicked off on Monday on a rather quite note due to the Las Vegas shooting that occurred on Sunday night.
Stephen Paddock, a 64 year old resident of Mesquite, Nevada booked himself a room on the 32nd floor of the Mandalay Bay casino resort and brought with him a handgun and sixteen high powered rifles. How he got so many weapons through casino security is yet to be ascertained but he would go on to open fire on Sunday night on a crowd in excess of 22,000 and cause mass causalities.
NBC News
The crowd had gathered opposite the Mandalay Bay Resort to enjoy a country music festival. Paddock poured bullets into the crowd as country star Jason Aldean performed and continued to empty magazines into the unsuspecting crowd, till the police stormed his room to find that he had taken his life by shooting himself. The authorities have so far confirmed that 59 people have lost their lives in the shooting and more than 500 have been injured. This has been labeled as the worst shooting in U.S history.
G2E organizers were not going to let the senseless killings bring the city of Las Vegas to a stop or cancel the convention. They opened the conference on a quiet note and confirmed that safety remained a key priority. More than 26,000 people visit the G2E on an annual basis.
In a joint statement, Presidents of the AGA and Reed Entertainment said
The AGA and Reed Exhibitions will be in constant contact with local and national law enforcement and our host, Las Vegas Sands. We will closely monitor the situation and safety remains our priority.