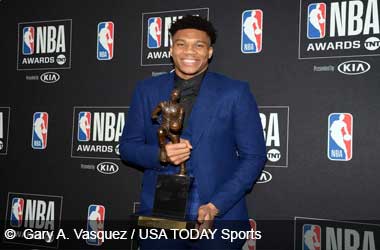 The NBA awards were given away on Monday night to recognize the top players and contributors during the 2018-2019 season.
While a number of awards were presented on the night, the most important one was the Most Valuable Player (MVP) award.
There were quite a few contenders for the award that had impressive seasons. Some of them included James Harden from the Houston Rockets, Steph Curry from the Golden State Warriors and Giannis Antetokounmpo from the Milwaukee Bucks.
When the votes came in, it wasn't a close call as Antetokounmpo took 78 out of the 101 first place votes. The remaining 23 votes went to Harden who finished in first place.
Antetokounmpo was thrilled to win the MVP award and in doing so has become only the second player from the Bucks to win MVP after Kareem Abdul-Jabbar. Antetokounmpo who is just 24 years is the third youngest player in the last 40 years to win this prestigious award. He had a great season but failed to lead his team to the NBA finals.
Antetokounmpo finished the season with 27.7 points, 5.9 assists and 12.5 rebounds per game. His contributions was also recognized earlier this season when the fans voted him as captain alongside Lebron James for the 2019 All-Star team game.
NBA
Antetokounmpo Has A Lot To Offer
While Antetokounmpo will no doubt be thrilled at receiving his first MVP, he knows there is a lot of work for him to do for the next season. He helped lead the Bucks to their first playoffs since 2001 but could not get them past the Toronto Raptors who eventually went on to win the 2019 NBA Championship.
In a statement, Antetokounmpo said
MVP is not about stats and numbers. It is all about winning and all about making sure you go out there and do everything you can to win. I think that is what we did as a team.
The real superstars take their team all the way and that's what Antetokounmpo will want to do in the coming season. He has had to face a number of challenges including dealing with the death of his dad but has shown that he has a good head on his shoulders and is willing to put in the work.
He thanked Kobe Bryant for motivating him on social media to push hard for the MVP award.