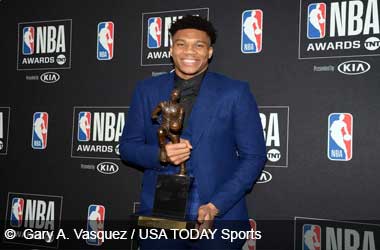 The Milwaukee Bucks were expected to get past Miami Heat in the second round of the playoffs. They had a better team on paper, especially with Giannis Antetokounmpo in their squad. However, the Heat managed to beat the Bucks in just 5 games and eliminated them last week.
Giannis Antetokounmpo wasn't very impressed with the performance the Bucks put in and he did not hide it. The 2019 Most Valuable Player of the Year (MPV) decided to clean up his social media and unfollowed hundreds of accounts on Instagram and Twitter. His fans were surprised when they found that he had also unfollowed the official Milwaukee Bucks team account and also unfollowed a number of his teammates.
This move caused rumours to circulate that Antetokounmpo wasn't very interested to continue with the Bucks. He just finished the 4th year in his 5 year contract with the Bucks and there was talk that he was looking to be traded as he did not want to stay another year with the Bucks who are one of the lesser teams in the NBA in terms of talent and bench strength.
First Take ESPN
Antetokounmpo met with the team owners over the weekend and is apparently willing to stay and play out his contract with the Bucks. This will certainly come as a relief to the Bucks who are keen on retaining the "2020 Defensive Player of the Year".
Bucks Want Antetokounmpo To Stay On
The Bucks don't want their superstar 6'11 player to leave the franchise as it will make it all the more difficult for them to move towards their goal of appearing in an NBA final. The last time the Bucks made it to the finals was back in 1975 when they had Kareem Abdul-Jabbar in their side. They went on to trade him the next season and realized in retrospect they had made a huge mistake.
They certainly don't want to make a similar mistake with Antetokounmpo. The Bucks will most likely offer him another 5 year super max extension contract that is expected to be in the range of $250 million. The Bucks are keen on building a strong team around Antetokounmpo and are expected to bring in a lot of new faces for the next season.
For now, it looks like Antetokounmpo will stay with the Bucks as he told reporters that they had to look to get better during the off-season as individuals and as a team to be a bigger threat for the next season.