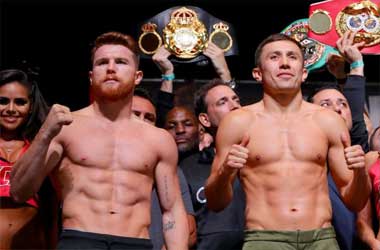 When Saul 'Canelo' Alvarez tested positive earlier this month for 'Clenbuterol', boxing fans were shocked and disappointed as they knew that the re-match between Gennady "GGG" Golovkin and Canelo Alvarez scheduled for May 5 in Las Vegas, Nevada literally hung on a thread.
Canelo was found to have used Clenbuterol which is a banned performance enhancing drug that athletes use to build lean muscle mass and cut fat. The Mexico superstar denied PED charges and claimed that the drug entered his system through contaminated meat which is common in Mexico.
His team remained confident that the issue would be cleared and the fight would proceed as per schedule. Now, the Nevada State Athletic Commission (NSAC) has filed a formal complaint against Canelo for breaching anti-doping procedures. NSAC had earlier issued a temporary suspension and set a hearing for April 10.
That hearing has now been pushed back to April 18 after the official NSAC filing. If found guilty Canelo Alvarez could face a ban for a minimum of 9 months and up to 24 months. This is the first time that Alvarez has tested positive for a banned substance and the NSAC has tended to follow a policy of issuing a 12 month suspension for first time offenders.
The NSAC filing has just about cancelled the May 5 bout and it looks like boxing fans will once again have to wait to see two of the biggest superstars in boxing settle square off after their first fight ended in a draw.
NSAC Commission Not Buying Contaminated Meat Excuse
GGG had earlier lashed out at Canelo Alvarez and his team for putting their fight in jeopardy and using banned substances. GGG labelled Alvarez a cheat and said that the fighter deliberately used PED's and this is not the first time that he has taken PED's. NSAC executive director Robert Bennett is also not buying the contaminated meat argument.
In a statement, Bennett said
Alvarez's utilization, ingestion and/or consumption of Clenbuterol, whether intentional or not, constitutes an anti-doping violation. By allowing Clenbuterol to enter his system, Alvarez engaged in conduct that reflected discredit to unarmed combat and he is guilty of foul or unsportsmanlike conduct that was detrimental to a contest
Since the fate of Canelo Alvarez will be determined only by April 18, there will be a slim chance that GGG's promoters will be able to find a replacement fighter on such short notice.