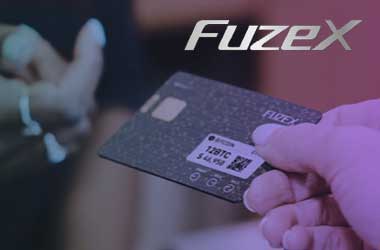 FuzeX has introduced a smart e-card which facilitates storing up to 15 cryptocurrency account, 5 reward cards, and 10 credit or debit cards. The accounts can be connected to the FuzeX ecosystem through the FuzeX Wallet app. Once the accounts are linked to the FuzeX ecosystem, a user will be able to use the FuzeX card without a need to use their smart phone every time. By using one of the three buttons on the lower end of the card, the account to be used for payment can be selected.
The FuzeX Card pairs with the FuzeX Wallet to function as a hard wallet storage of private keys. Fragmented private keys are encrypted and stored between the FuzeX Card and KYC compliant FuzeX Wallet. The private keys are only accessible by unlocking the FuzeX Card (via a pin on the card) and FuzeX Wallet (via an account password).
FuzeX card is made of up of an EMV chip, a dynamic magnetic strip, an E-Paper Display (EPD), three input option buttons, a rechargeable battery, and a charging terminal. The Card is identical in size and thickness to a standard credit or debit card.
Salient features of FuzeX card:
Store, manage and use up to 30 credit, debit, reward and cryptocurrency accounts
Built-in buttons to power on/off, enter pin codes, make selections, and authorize payments on the FuzeX Card itself
E-Paper Display (EPD) to view balances across accounts, barcodes for reward card scans, and QR codes for blockchain addresses
EMV (IC Chip) for multi-cryptocurrency payments
Near Field Communication (NFC) for credit and debit card payments
Barcodes for reward payments
QR Code for cryptocurrency wallet addresses for P2P transfers
Bluetooth connection between FuzeX Card and FuzeX Wallet to ensure security
Remote wipe technology to clear data from the FuzeX Card
Battery life between 45~60 days
Sleek, slim, rechargeable portable battery bank
During this quarter, FuzeX will partner with existing exchanges and credit/debit card issuers. Once this is accomplished, FuzeXwill build its own Centralized FuzeX exchange.
The company already has a successful track record of developing and selling 30,000+ Fuze cards (magnetic and barcode enabled). FuzeX has successfully completed a pre-sale of its FXT tokens on February 15.