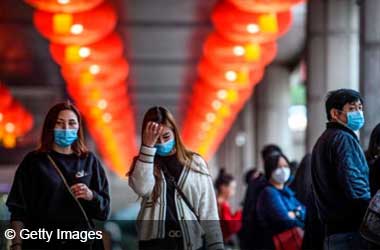 The coronavirus which has now been declared as a global public health emergency is causing a lot of chaos in the financial markets. The biggest impact has been in China as a number of countries have now suspended all air travel to China and Hong Kong.
As a result, the stock markets in China and Hong Kong have taken a big hit and Beijing is doing its best to pump in funds and reduce the negative impact.
While declining share prices is a major concern for all listed companies, financial firms around the world are also feeling the impact of the coronavirus, especially financial firms in Asia. Macau Casinos have also been made to feel the effect deciding whether they should do a shutdown or not.
The coronavirus has resulted in 100s of people dying throughout China as well as a few deaths across other Asian countries. The biggest concern as of now is the lack of knowledge about the virus and as a result fear has spread rapidly across Asia.
Millions of employees are not very keen on taking public transport as they are fearful of being exposed to someone who has the virus. As a result, they are requesting their companies to grant them extended leave or give them the option of working from home. Most companies were not prepared for anything like this as they are not able to cope with so many employees not coming to work at once.
As a result, their day to day operations is getting impacted and the backlog of work keeps growing. A number of companies have decided to implement a new 'work from home' policy that will allow their employees to work from the comfort of their home till things get back to normal.
BBC News
CNY Holiday Extension
China just finished celebrating their Chinese New Year (CNY) which is the biggest holiday in the country. However, this time around the mood was quite sober due to the coronavirus and the number of restrictions the government imposed domestically. China typically shuts down for a week during the CNY as millions of employees go back to their hometown.
Many of these employees are yet to come back to work as they are not willing to put themselves at risk and travel back. The only option for most companies is to use the work from home policy and wait till things get back to normal.