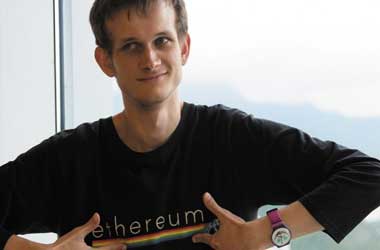 Ethereum founder Vitalik Buterin tweeted a series of warnings to cryptocurrency investors about the volatility of the currency and the numerous scammers now crawling on Twitter.
Cryptocurrency has proven itself to be the most volatile of investments in the market today, after Bitcoin's unbelievable rise and fall since last year. In fact, the founder of the Ethereum cryptocurrency believes that cryptocurrency is more than just a currency and is a valuable but volatile asset.
While millions of investors have jumped on the cryptocurrency wagonduring the past few months, Buterin believes investing in cryptocurrencies is not for people who can't afford to lose the money.
In a tweet, Buterin reminded his followers that cryptocurrencies are still a new those who want to buy assets should invest their life savings on traditional assets such as cash, jewellery and land instead.
Reminder: cryptocurrencies are still a new and hyper-volatile asset class, and could drop to near-zero at any time. Don't put in more money than you can afford to lose. If you're trying to figure out where to store your life savings, traditional assets are still your safest bet.

— Vitalik Buterin (@VitalikButerin) 17 February 2018
The popularity of the cryptocurrency industry exponentially increased last year when Bitcoin reached record-setting highs in December, reaching as much as $19,000. But just as quickly as it increased, bitcoin also dropped significantly since 2018 and has now reached a low of $6,000 in just under two months. As of writing, Bitcoin has climbed back up to $11,000. The constant fluctuation of Bitcoin – the most popular cryptocurrency in the world saw the global cryptocurrency market lose up to $100 billion in market value in 24 hours.
Be careful of Crypto Scammers
Buterin also used the Twitter platform to warn against the increasing number of crypto scammers, offering questionable cryptocurrency propositions and impersonating accounts of cryptocurrency exchanges and founders to falsely promote and scam investors. Some of the Twitter accounts that have been impersonated in recent times include Elon Musk, CEO of Tesla and J. Christopher Giancarlo who is the chairman of the Commodity Futures Trading Commission.
Buterin warned his followers not to trust anyone who asks for ETH on Twitter after a wave of scammers victimized people with the popular catch that they'll be sending you more crypto in exchange for ETH.
Time that it takes for scammers to copy my new profile picture: 10 minutes.

DON'T TRUST ANYONE ASKING FOR OR OFFERING MONEY ON TWITTER.
DON'T TRUST ANYONE ASKING FOR OR OFFERING MONEY ON TWITTER.
DON'T TRUST ANYONE ASKING FOR OR OFFERING MONEY ON TWITTER. https://t.co/wcDAJoh6jD

— Vitalik Buterin (@VitalikButerin) 18 February 2018