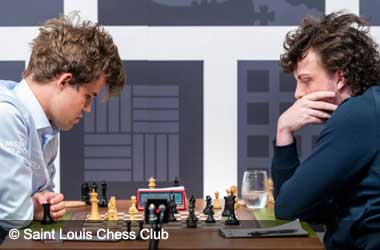 Summary
Magnus Carlsen has accused an American teenager of cheating
Hans Niemann has a history of cheating in live and online chess matches
Niemann has denied those cheating allegations
The events after the 2022 Sinquefield Cup in Saint Louis got more intriguing as chess grandmaster Magnus Carlsen accused fellow player Hans Niemann of cheating on 26 September, 2022.
Carlsen released a statement in a Twitter post after the teen defeated him, prompting his withdrawal from the event.
My statement regarding the last few weeks. pic.twitter.com/KY34DbcjLo

— Magnus Carlsen (@MagnusCarlsen) September 26, 2022
Niemann Denies Foul Play Allegations
Niemann denied cheating in over-the-board chess. In an interview with the St.Louis Chess Club, the 19-year-old American admitted to cheating in his chess career twice. However, he was quick to refute Carlsen's allegations, saying he did not want any misrepresentation of his views.
Carlsen initially wanted to withdraw from the Sinquefield Cup after Niemann was invited to the event at the last minute. Despite suspecting foul play, the 31-year-old chess champion decided to play on. Carlsen added that Niemann's progress and his lack of concentration confirmed his suspicions. The Norwegian noted that the teen played with black in a fashion rare for most players to replicate.
The game changed Carlsen's perspective and strengthened his beliefs against foul play. He urged organizers to put stringent cheat detection and security measures in place. Carlsen voiced his displeasure about playing against repeated cheaters as he was wary of their future actions. He didn't make his allegations public as he didn't want to speak about Niemann without his consent.
Previously, the International Chess Federation (FIDE) released a statement rebuking Carlsen for backing out of the game after just playing one move against Niemann in the Julius Baer Generation Cup on September 20. Carlsen clinched the winning title despite withdrawing from the match. The body disapproved of the world champion's decision to leave the game abruptly. While the FIDE said that the situation could have been dealt with in a better way, it supported Carlsen's concerns about the excesses of cheating.
Theories On How Niemann Cheated
Carlsen's refusal to play against Niemann in the Julius Baer Generation Cup was scrutinized by many, including the FIDE. The chess great's defeat in the third round of the Sinquefield Cup shocked many. Meanwhile, there are several theories floating around alleging that Niemann relied on a computer program embedded in anal beads or prostate massagers that offered up something like a Morse code that helped him defeat Carlsen.
Niemann insisted on playing fairly and offered himself for a strip search to prove the falsity of the anal beads theory. The 19-year-old American player was also accused of cheating in online chess prize money matches, leading to his ouster from Chess.com.