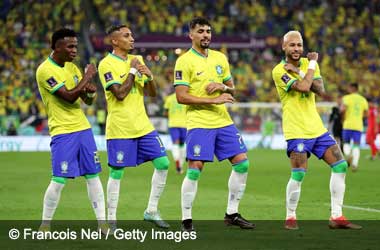 Summary
Brazil trounced South Korea 4-1 as their star players delivered
Vinicius Jr, Neymar Jr, Richarlison and Lucas Paquetá scored for Brazil
Brazil now faces Croatia in a quarter-final showdown
Brazil entered the 2022 FIFA World Cup in Qatar as the favorites to win the World Cup.
The South American football giants took on South Korea in the round of 16 on Dec 05 and played at full strength as Neymar Jr returned after missing the last two football games along with Vinícius Júnior and Richarlison who were rested for Brazil's last game against Cameroon which they lost 0-1.
Brazil Thrash South Korea To Win 4-1
South Korea played good football to make it to the round of 16 but they knew they had a herculean task ahead of them in getting past Brazil. It did not take long for Brazil to score as Vinícius Júnior. showed great class and presence of mind to put one at the back of the net and give Brazil a 1-0 lead.
Neymar Jr. scored the second goal via a penalty and Richarlison scored his third goal of the World Cup soon after. South Korea looked deflated after each goal and Lucas Paquetá finished the first half by scoring another one to give Brazil a 4-0 lead going into half-time.
Brazil put on an astonishing display of football showcasing their technical skills, flair and individual brilliance. A lot of their fans expected Brazil to continue to lead the dance in the second half but South Korea came out and played better football.
Brazil missed a lot of chances in the second half and ended up conceding a goal after Palk Seung-ho fired in a brilliant shot. South Korea did get back a little respect in the end but will be disappointed with their performance.
Brazil To Face Croatia On Dec 09
Brazil now moves on to the quarter-finals and is set to face Croatia next. Brazil will not take Croatia lightly as they finished as runner-ups in the 2018 FIFA World Cup final after losing to France.
Croatia had a very tough game against Japan who stunned Spain in the match before and the match was decided via a penalty shootout that Croatia won. Croatia playing the additional 30 minutes against Japan is not going to help their players as they have just a few days to recover before they play Brazil on Dec 09.