Michy Batshuayi left Chelsea to join German giants Dortmund on loan for the rest of the season in January transfer window. The 24-year-old has scored eight goals since his temporary switch in 11 appearances for BVB. His performances will only raise interest in the striker from elsewhere, as BVB officials have already claimed that they do not believe that they can afford the striker on a permanent basis.
Struggled at Chelsea
The Belgium international has struggled to establish himself at Chelsea since joining in the summer of 2016 from Marseille in a deal worth around £33million.
Incredibly, the striker started just four Premier League games in his season and a half at the club. He was nothing more than a bit-part player at Stamford Bridge, despite grabbing some vital goals for the Blues.
Batshuayi was always second choice striker at Chelsea, first behind Diego Costa and then this season to Alvaro Morata. Even when Morata was unavailable or out of form, Chelsea boss Antonio Conte has not always selected the former Marseille.
A big success at Dortmund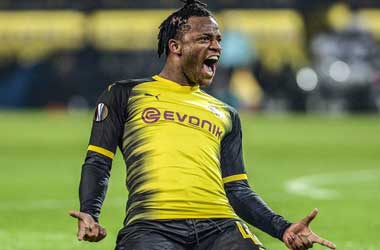 With the World Cup just a few months away Batshuayi has hit form, scoring six goals in the Bundesliga, as Peter Stoger's side look to clinch a Champions League spot in the German top-flight this season.
Despite his success at Dortmund, Batshuayi looks unlikely to stay, as the German club would struggle to meet Chelsea's asking price and pay the player's wages in full.
Unfortunately, for BVB, it is a case of the better Batshuayi performs for the German club the more likely Chelsea will up the striker's price tag this summer. His success will also attract interest from elsewhere.
Batshuayi was brought in to replace the prolific Pierre-Emerick Aubameyang, who left the German club to join Arsenal in the January transfer window. However, he is only a temporary measure, but Dortmund will have to replace the Gabon international on a permanent deal.
It would be good if BVB could somehow manage to sign the striker on a permanent deal, as he seems to thrive in the yellow and black of Dortmund. Regular first-team football obviously helped the striker find form, as his goalscoring record has proven since joining in January.
What does the future hold for the striker?
The next few months could be massive in the football career of Michy Batshuayi. At 24 years-old he has the talent and the attitude to be a success at the top level of the game.
It could be claimed that he was treated slightly unfairly at Chelsea. The likes of Morata and January signing Olivier Giroud have not exactly lit the world on fire since Batshuayi joined Dortmund.
Chelsea may well have benefitted in showing some faith in the Belgian striker, as he could have scored goals on a regular basis given first-team football at Stamford Bridge.
However, it seems that the management team at Chelsea does not fancy the striker. If Conte leaves this summer, then that may change.
Whatever happens at Chelsea, all Michy Batshuayi has to do is to keep scoring goals for Dortmund. If he does then his place in the Belgium World Cup squad will be assured and the striker will be playing first-team football next season, whether that is at Chelsea or elsewhere.
Will Chelsea give Michy Batshuayi a chance next season?