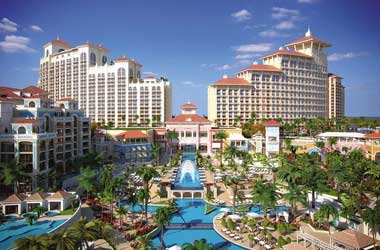 The Baha Mar casino resort in the Bahamas has finally received approval for a gaming license allowing it to start operations on its scheduled soft launch date of April 21.
A media report from the Caribbean country stated that the gaming permit application had been submitted by Sky Warrior Bahamas Ltd which has been described as a subsidiary of Chow Tai Fook Enterprises Ltd (CTFE), a Hong Kong based conglomerate.
CTFE which has investments in casino projects across Australia, Macau and Vietnam had confirmed in December that it had entered into an agreement to own and operate the Baha Mar casino resort.
The agreement rescued the $3.5 billion Bahamian project which had stalled due to the previous developer filing for bankruptcy, throwing its survival into doubt. The government then placed the project, seen as critical to the country's economy into liquidation and dealt directly with the creditors and investors to restart work on it.
ZNSNetwork
CTFE is not known to directly handle casino operations although it acts as a partner, like in the case of an Australian project where it has teamed up with a local casino operator, the Star Entertainment Group Ltd. So far no executives have been named as being in operational control of the Bahamian project.
According to the newspaper report, Obie Wilchcombe, the Bahamas' tourism minister has confirmed the issuance of the license and has indicated that a suitability certificate was also awarded based on an exhaustive probity investigation.
In a statement, Wilchcombe said
The Gaming Board and its staff will continue to work with the applicant to ensure that the prevailing pre-opening requirements leading up to the soft opening of the Baha Mar Casino on April 21, 2017, are duly met.
Graeme Davis who is the president of CTFE's Bahamian subsidiary had written an open letter to the country's gaming board, denying allegations that the company was associated with criminal groups. An earlier newspaper report had citied its relations with a Macau gaming group as being indicative of having connection with such groups.
Henry Cheng Kar Shun, chairman of CTFE has been serving as a non-executive director of SJM Holdings Ltd, a Macau casino operator since 2013. Prior to that his father, Cheng Yu Tung was a business associate of Stanley Ho Hung Sun, the founder of SJM Holdings. CTFE issued assurances through media reports before finalizing the purchase of Baha Mar that it would not be involving SJM Holdings in any way in the Bahamas project.