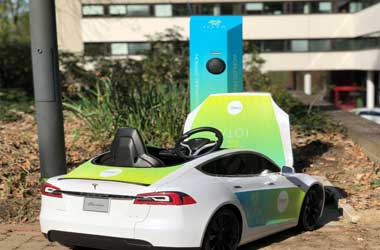 Yesterday, ElaadNL, a company involved in researching and testing of all aspects related to smart charging, opened the world's first IOTA based charging station at business park Arnhems Buiten (former KEMA site), Netherlands. The site hosts all kinds of charging facilities and are used by public. Both charging and paying is done with IOTA, on a machine –to-machine (M2M) basis.
The hardware within the charges establishes a TCP/IP connection with a car. Once that is done, relevant data is exchanged, followed by payments in a fully autonomous and M2M mode. The charging cable and specialized hardware uses the newly developed communication in e-mobility ISO15118 (an international standard defining a vehicle to grid (V2G) communication interface for bi-directional charging/discharging of electric vehicles) technology to establish the connection with a car.
The IOTA charger is open to public for charging. In case, a car does not possess the required hardware and software, a user can still use the charger by sending IOTA tokens directly to the charger using a normal IOTA wallet.
The charging station operates anonymously, while performing the necessary data and payment transfer with the end 'user'. Tangle stores meter values and updates it once in 15 minutes. This ensures reliable and irrefutable administration.
ElaadNL
About IOTA's Tangle technology
The IOTA Tangle is an innovative type of Distributed Ledger Technology (DLT) specifically designed for the Internet of Things (IoT) environment. It is an open-source protocol facilitating novel Machine-to-Machine (M2M) interactions, including secure data transfer, fee-less real-time micropayments.
No back office and no communication protocol are required to operate the charging station. The transactions are exchanged directly without the use of a charge card or subscription. The mini Tesla model car, which a child can actually drive, is shown above. It is equipped with the necessary hardware to support M2M transactions. The prototype can be charged with IOTA in a fully autonomous mode. The developers, however, mentioned that some changes in software are required for a car to use the system. If a charge station makes necessary changes to facilitate M2M communication, then the facility can be established in no time.
Presently, a user has to swipe an RFID card to charge a car. Furthermore, the bill raised at the end of the month needs to be verified and settled. All these cumbersome process can be avoided with IOTA charger. So, the technology is well suited for the world that is increasingly getting digitized. The adoption of this technology may also pave way for similar scenarios in the energy sector.
Onoph Caron, managing director of ElaadNL about the IOTA charging station, said
"This charger shows the ability of using real machine to machine communications and micropayments, with the use of IOTA as a secure layer for these payments and data. ElaadNL researches all kinds of innovative and smart technologies with regard to charging electric cars. DLT-technology might become a widespread thing in the near future. Now we can explore and research its possibilities on our testing ground in Arnhem."
Alisa Maas, Head of Mobility, at the IOTA Foundation, said
"IOTA is thrilled to see ElaadNL take their IOTA smart charging station development to the next level. This solution demystifies IOTA's potential to become the backbone for the Machine Economy. Thanks to ElaadNL's cutting edge innovation, seamless e-mobility is taking one big leap forward and we look forward to sharing this achievement with the rest of our growing ecosystem, at the crossroads of mobility, energy and smart cities sectors."