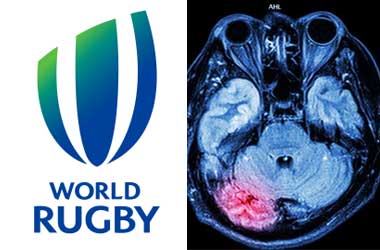 Summary
A class action suit has been filed against World Rugby, Rugby Football Club, and Welsh Rugby Union
The claimants accuse the three bodies of failing to protect players from permanent brain damage
The defendants could be ordered to pay out substantial compensation to the victims
Rugby's three leading governing bodies have been hit with a massive lawsuit that could leave them on the hook for millions in compensation. The legal action was launched on July 25, by a group of rugby players suffering from permanent neurological damages, including early-onset dementia.
World Rugby, the Rugby Football Union, and the Welsh Rugby Union have been listed as the defendants.
Among the plaintiffs in the case are former Wales captain Ryan Jones, England hooker Steve Thompson, New Zealand's Carl Hayman, and England's Michael Lipman. The 185 former players involved in the lawsuit accuse the three bodies of multiple failings in terms of protecting players from the risks of permanent brain damage.
The defendants allegedly failed to ensure that players underwent regular medical examination for evidence of brain damage and did not conduct a proper investigation on the effects of collisions on the brain. The plaintiffs claim that there was inadequate education and awareness regarding the risk of head trauma.
The players also allege that the three sports authorities ignored the devastating effects of repetitive concussive blows and failed to take prompt action to protect them, such as extending stand-down periods for players who had suffered head injuries.
The claimants, aged in their 30s, 40s, and 50s, were diagnosed with "irreversible neurological impairments", including early onset dementia, Parkinson's disease, epilepsy, motor neurone disease and probable chronic traumatic encephalopathy. This is not a new problem for sports with head contact with American Football in the spotlight over the last few year over the same issues with players and the need to protect them better.
Ryan Jones, one of rugby's most prominent figures, went emotional in an interview with local media as he bared details of his brain injury diagnosis.
Many more former players could suffer from similar brain illnesses due to the negligence of the authorities, according to Richard Boardman of Rylands Law, the law firm representing the players.
He said that the ex-players lodged the case not to harm the sport they love but to make it safer so that present and future players won't end up like them.
Massive Compensation On The Cards
The proceedings could result in huge losses for the rugby union which has yet to fully recover from the financial impact of the pandemic.
In 2016, a class action suit against the National Football League in the US ended up in the league paying $1 billion in settlement to players suffering from head trauma. While the potential amount of compensation involved in the rugby case is unlikely to reach that level, the cost would still be sizeable.