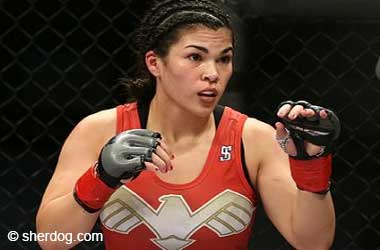 Rachael Ostovich does not have any major accomplishments yet in her MMA fighting career with the Ultimate Fighting Championship (UFC) and has a 4-4 record. However, she has gained a lot of attention due to her looks and her Instagram posts.
The UFC recently announced that Ostovich would square off against Paige VanZant (PVZ) on January 19, 2019 to give fight fans what they wanted – two beautiful women fighting in the Octagon.
However, that fight is highly unlikely to take place in Jan as Rachael Ostovich was assaulted on November 18 in her native state Hawaii.
KHON2 News
The Honolulu Police Department has confirmed that it has launched an investigation into a case of domestic assault involving a 27 year old woman and a man who was known to her. The state of Hawaii does not allow the authorities to release names before the investigation is complete.
However, it widely reported that Ostovich was assaulted by MMA fighter Arnold Berdon who is her husband. Ostovich and her team are yet to release an official statement but unconfirmed reports suggest that the couple were having an argument before things became violent.
UFC Looking For Replacement For PVZ
The recovery time from an orbital bone fracture can take anywhere between a 1 to 3 months and even more, depending on the severity of the injury. This will force Ostovich to rest and postpone her training camp which automatically cancels the fight with PVZ. The UFC is not looking to postpone the fight and is reportedly looking for a replacement for the Jan 19 card.
Ostovich will be hurting not only from the injury but also from the fact that she will not fight PVZ as this was a great platform for her to gain more visibility as PVZ has a massive fan base after her appearance on Dancing With The Stars. A win over PVZ would have also done wonders for Ostovich's UFC career.
Violence Outside The Octagon
This is not the first time an MMA fighter has attacked a girlfriend or spouse and will most likely not be the last time as well. Andrea Lee another female fighter in the UFC was assaulted by her husband and coach Donny Aaron in August 2018.
Former UFC fighter War Machine is serving a prison sentence for assaulting and raping his former girlfriend Christy Mack and also attacking her partner Jonathan Koppenhaver. The UFC dropped War Machine from their roster soon after.