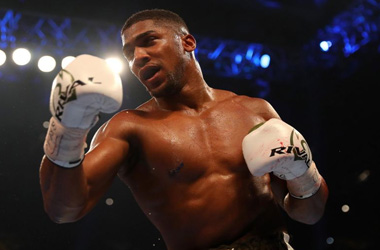 British heavyweight boxer Anthony Joshua is the current holder of the IBF, WBA and IBO belts and is preparing to fight Joseph Parker (24-0) who is the WBO belt holder on March 31 at the Millennium Stadium in Cardiff, Wales. The 28 year old Joshua is considered by many to be the future of boxing and the most exciting boxer in the sport today.
Dana White, the president of the Ultimate Fighting Championship (UFC) is a huge fan of Joshua and has admitted in the past that he was very interested in getting into boxing and signing Anthony Joshua under Zuffa Boxing. White is expected to travel to Cardiff and be present at ringside to watch the fight. He will later meet with Joshua to discuss a potential offer which is reported to be around $500 million.
This could potentially work out to around $50 million per fight for Joshua which is a lot more than what he makes with current promoter Eddie Hearn. Joshua reportedly takes home around $15 million per fight and signing with Zuffa will give him a much bigger payday. Eddie Hearn will obviously not be very happy with the thought of losing his golden boy whom he signed back in 2013. However Joshua has admitted that he will go ahead and meet with Dana White to discuss a potential offer.
In a statement, Joshua said
We will listen and 100 percent if it makes sense, we are all in. So I am happy that Dana's coming into the game, hopefully we can add some excitement and we can progress forward and make some more money and make some good fights
FightHype.com
Anthony Joshua Expresses Interest Of Fighting In The UFC
Joshua currently has a 20-0 record and all of his wins have come by knock-out. Dana White has said that he believes Joshua is the future of boxing and has the potential to change the sport and make it better going forward.
Joshua recently said in a Sky Sports podcast that he is open to fighting in the UFC and would like to get in the Octagon with Jon Jones or Francis Ngannou. Joshua would have to work hard on his MMA skills before venturing to step into the Octagon but signing with Zuffa Boxing might be the first step that takes him in that direction.