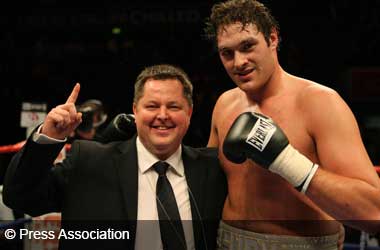 Tyson Fury is not fighting in March nor is he doing any promos for his third fight against Deontay Wilder but the recently crowned heavyweight world champion has been in the news and its mostly for the wrong reasons.
The British fighter has decided to settle a lawsuit with his former promoter Mick Hennessy. The lawsuit was filed alleging that Fury had reneged on their contract.
The Gypsy King paid him £1.5 million to settle the lawsuit.
Fury first worked with Hennessy in 2008, and embarked on what would become a career-defining victory against Vladimir Klitschko in 2015 under Hennessy's banner.
Klitschko had been unbeaten in more than 10 years before the Fury bout, while Fury's reputation was small but growing. Klitschko was widely expected to dispatch Fury in short order, but Fury outboxed the champion over the full 12 rounds—cementing Fury's rise to the top of boxing ranks.
Immediately after that win, Fury stayed out of the ring for the better part of two years to work on his mental health—emerging only in 2018 with Frank Warren as his new promoter.
SecondsOut
Fury has long had struggles with mental health and substance abuse. He has also faced doping accusations. In June 2016, UK Anti-Doping hit Fury with charges that he and his cousin, fellow boxer Hughie, tested positive for the steroid nandrolone. Both denied any willful cheating, attributing the positive result to a meal of uncastrated wild boar. Fury was also charged in September 2016 of testing positive for cocaine use, which he admitted, stating that he used the recreational drug to deal with his personal problems.
Fury's career has since skyrocketed under Warren's banner, culminating in his domination of Wilder in seven rounds in their second fight that resulted in him winning the WBC heavyweight title . Fury is now worth around £70 million and will fight Wilder for a third time on July 18.
Fury Could Face 8 Year Ban
Hennessy's suit alleged that Fury reneged on their deal. Fury responded by settling Hennessy's suit out of court, rather than go through a long protracted legal process in the prime of his fighting career. An insider source close to both camps stated that both parties felt that they were right, but with Hennessy's suit looming, Fury thought it better to settle and move on rather than take on a legal challenge in court.
Another legal challenge may present itself to Fury soon as the UK Anti-Doping organisation is evaluating claims alleging that Fury and his team offered a farmer £25,000 to lie about selling Fury uncastrated boar meat. If guilty, Fury may face an eight-year ban!