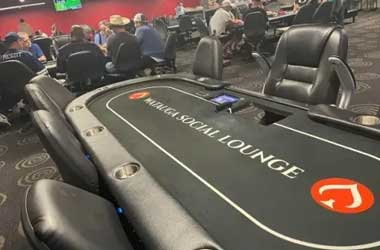 Summary
The raid took place while a $100K poker tournament was ongoing at a poker club in Texas
All players present at the venue during the raid were each fined $360
At least six members of staff were arrested, with multiple assets also confiscated
A Texas Poker Room called The Watauga Social Lounge Poker Club in Watauga will temporarily cease operations after it was raided by local authorities on suspicion of running illegal gambling activities. The raid, which took place on October 9 in the middle of a $100K poker tournament, resulted in the arrest of at least six employees, with numerous players also fined and multiple assets seized.
Poker Room Suspected of Running Illegal Gambling
Based on a warrant signed by Judge George Gallagher two days before the raid, the Watauga Social Lounge Poker Club was described as a "gambling establishment" with tinted windows that prevent anyone from seeing inside.
The warrant authorized police to seize assets, including gambling proceeds, currency, financial instruments, and other items of value coming from unlawful activities, as well as tickets, bank bags, gift certificates, credit card receipts, and coupons providing documentation of entries, payoffs, administrative fees, and checks cashed by player.
Authorities were particularly searching for gambling equipment not related to poker, including video gambling devices, dice, and roulette wheels, which violate Chapter 47 of the Texas Penal Code, but they also took into custody all the tables and chairs as well as other poker equipment used in the venue.
Players Slapped with $360 Fine
Police stormed the Watauga Social Lounge Poker Club during Day 2 of the Fall Classic Poker Main Event, a $420 buy-in tournament which had a guarantee of $100,000. It drew a total of 369 entries across six starting flights which created $132,840 in total prize pool. The tournament had a $20 optional dealer add-on.
The raid happened when there were just 49 players remaining and all of them were reportedly fined $360 each. Authorities also confiscated the prize pool and an undisclosed amount of money on hand. The players were asked questions pertaining to their club membership and the details of the tournament, including the entry fee and the $20 dealer tip.
There was a bit of confusion in the area as to why the club was raided and why just now when it has been operating since January 2022. But previous reports suggest the poker room might have been engaged in dubious activities, with one player accusing the venue of charging hidden rake and add-ons.