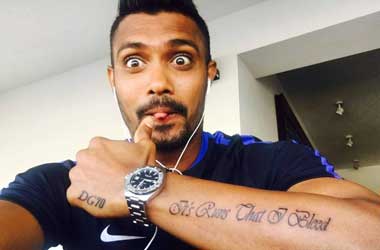 Summary
Danushka Gunathilaka was part of the Sri Lanakan T20 World Cup squad in Australia
He is accused of meeting a female on Tinder and raping her in house
Gunathilaka's bail application is refused and he is detained in Australia
Danushka Gunathilaka is a popular but controversial Sri Lankan cricketer who has represented his country in 8 test matches, 47 ODIs and 46 T20 games. He was part of the T20 World Cup squad that travelled to Australia to take part in the on-going T20 World Cup.
After playing in the first match against Namibia, he was sidelined for the rest of the tournament after suffering a hamstring injury. The 31 year old cricketer made headlines in Australia after he was arrested at the hotel the Sri Lankan team was staying at on allegations of rape.
Tinder Date Goes Wrong For Gunathilaka
Gunathilaka decided to use his spare time to browse the popular dating app Tinder and set up a Tinder date with an unidentified woman. The two met at a restaurant in Sydney and then went back to her place where the Sri Lankan cricketer is alleged to have had sexual intercourse without consent.
Rape charges were filed against Gunathilaka and he was arrested at the team hotel and taken to prison. He filed a bail application but the Downing Centre Local Court refused the application much to the disappointment of his legal team. He is expected to file a second bail application today but it is likely that it could also be refused as there is a threat that Gunathilaka might try to get back to Sri Lanka.
The Sri Lankan Cricket team have already left Australia after they failed to qualify for the T20 World Cup semi-finals.
Gunathilaka Had Face Previous Rape Charges
Danushka Gunathilaka has built an image for himself as "the bad boy of Sri Lankan cricket". Gunathilaka has been reprimanded multiple times by the Sri Lankan cricket board for poor conduct. One of those incidents that will be of interest to the Australian authorities was when he was suspended in 2018 for breaching the 'Player Code of Conduct' by not sticking to his curfew time.
His suspension was due to the fact that he was investigated by the Sri Lankan police as there were charges that a friend of his had raped a Norwegian woman in Colombo. The Sri Lankan police did clear him of the charges but it goes to show that this is not the first time he has faced rape allegations.