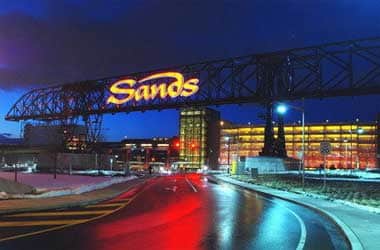 The Sands Bethlehem casino in Pennsylvania will soon unleash an intensive ad campaign opposing a proposed legislation that seeks to expand gambling in the state.
The new House legislation is seeking approval for placement of video gaming terminals (VGTs) in retail locations with liquor license such as truck stops, bars, restaurants, clubs,which would effectively eliminate the current monopoly on slots by state casinos.
According to analysts, the bill will result in the state ending up with 35,000 to 40,000 gaming machines. Slot machines currently operational in the state's 12 casinos are in the region of 27,000.
Sands is hoping to sway public opinion through a gloom-and-doom campaign highlighting the view that the availability of VGTs in every locality can negatively impact the existing casino industry which generates annual tax revenue of $1.4 billion for the state. The campaign will pit the casino industry against the Pennsylvania Tavern Association, which is pushing for the new bill as it wants get a share of the gambling market.
Sands is so far the only casino campaigning against the bill but the company has said that other operators would soon join. A new lobbying firm called Pennsylvanians For Responsible Government is handling the campaign which will include radio ads, a 30-second TV ad as well as a website.
12000 PA Casinos
In a statement, Michael Barley said lobbying group spokesman said
This proposal would destroy the brick-and-mortar casino industry and risk the nearly $1.4 billion in tax revenues that these establishments generate annually. Worse yet, because VGTs are designed to operate without employees, the 18,000 people casinos collectively employ in Pennsylvania will be put in serious jeopardy.
The bill's sponsor, Rep. Mark Mustio, stated that the ad campaign was misleading. Mustio said that allowing five machines in an establishment wasn't going to make bars into a casino. He pointed out that the main aim of the bill was to legalize illegal gaming terminals operating currently in social venues allowing the state to collect taxes from them.
While some legislators are denying that the new bill will pose a threat to casinos in the state, some industry experts are in agreement with Sands on its impact. John Cunnane, a Wall Street gaming and leisure analyst for Stifel Investment Services said that if the new bill is passed it will result in a sweeping expansion with over 16,000 establishments that have a liquor licenses gaining the opportunity to introduce slot machines to their patrons.