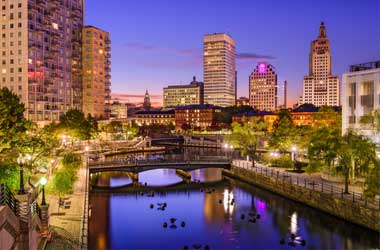 Rhode Island's initiative to enact remote registration for sports bets has entered the home stretch, after state lawmakers passed both HB 8097 and SB 2919 last week. The bills have now been forwarded to Gov. Gina Raimondo's office, where they will become laws once she signs them.
Remote registration allows the state's punters to create a mobile sports betting account without having to make an in-person appearance at one of Twin River's two local casinos.
Allowing local residents to register remotely should reduce the barrier of entry into Rhode Island's nascent sports betting industry. According to Rep. Marvin Abney, the sponsor of HB 8097, around 14,000 residents have not completed their registration due to the in-person requirement. Abney expects that remote registration will incentivize many of these people to complete their accounts.
Rhode Island's mobile sports betting industry launched in September 2019, using IGT technology and operated by William Hill. Local authorities discovered that the state was losing out on a significant number of players due to the in-person registration requirement, which spurred an initiative for remote registration.
While the initiative could prove to be a major boon to the state's growing gambling industry, some quarters have registered their concerns regarding the proposed change.
Legislators Worry on Legality of Remote Registration
A number of state legislators are worried that sports bets that allow remote registration may run into legal hurdles in the future. Sen. Samuel Bell noted that the bill could be construed as expanding gambling within the state, which he said would necessitate voter approval.
According to Rep. Blake Filippi, House Minority Leader, sports betting bills were passed last year with the understanding that in-person registration would be required.
Rhode Island House Republicans
This was countered by Marilyn McConaghy, Head of Legal Services for the Department of Revenue, who stated that their legal opinion is that only the gambling activity itself or in the case of online gambling, the server—must be located within casino premises, leaving the question of remote registration wide open.
Filippi's concerns may be justified, as Rhode Island has received some challenges to its legal sports betting industry. Filippi advised caution with mobile sports betting as not to jeopardize the state's entire sports betting industry in the eyes of the court for future challenges.
Local Dan Harrop filed a suit to put a stop to the industry, claiming that the referendum that paved the way for it was unclear. Despite the Superior Court's denial of Harrop's injunction in June, Harrop is reportedly preparing an appeal.