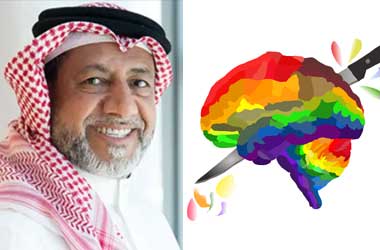 Summary
FIFA World Cup ambassador says homosexuals have 'damage in the mind'
Qatar forbids homosexuality and considers it a crime
Protests take place outside FIFA Museum in Zurich over homosexual remarks
The 2022 FIFA World Cup is set to take place in Qatar from Nov 20 to Dec 18 and over 1.2 million foreign nationals are expected to arrive in the country to witness the World Cup.
Qatar has faced criticism in the lead up to the World Cup over human rights violations and also its stance towards homosexuality.
While Qatar has played down these sensitive topics diplomatically and tried to keep the focus on football, its ambassador Khalid Salman has caused quite a controversy on German television over his anti-gay message.
Homosexuals Have "A Damaged Mind"
German broadcaster ZDF sat down with the FIFA ambassador for Qatar Khalid Salman to get him to share his thoughts and views on the 2022 World Cup. Salman is a former Qatar national team player and a practicing Muslim. When he was asked toughed questions on Qatar's stance against homosexuality, he did not doge the question or come up with a diplomatic answer.
Salman told the German TV network that homosexuals have 'damage in their mind' and practicing homosexual acts was haram or forbidden in Islamic countries. The ambassador also said that he had a problem with children seeing homosexual people. His interview was interrupted after a media officer belonging to the World Cup organizing committee stopped him from saying more.
Salman also said that while Qatar would welcome all tourists including homosexuals, it was important for homosexual tourists to respect the laws of Qatar and not engage in homosexual activities while in the country. If they do end up engaging in homosexual activities, they will have to face the legal consequences for their actions.
Protest Held Outside FIFA Museum
The ambassador's open stance against homosexuality did not go down well with the LGBTQ community and a number of countries who will play at the FIFA 2022 World Cup. A protest was held outside the FIFA Museum in Zurich on Nov 08 and outrage was also expressed on social media.
The World Cup organizers in Qatar did not release a statement on the ambassador's remarks and FIFA has also not commented on the matter as of this writing.