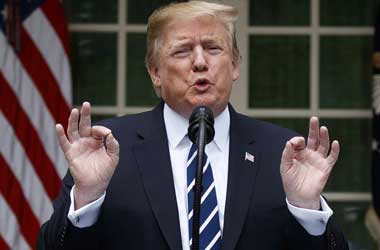 The Trump administration is considering delisting Chinese companies from US stock exchanges but the U.S. Treasury department denies any plans of doing so. This would be a major escalation to the current tensions between US and China. This delisting would be able to limit the amount of US investment in China.
The news about the supposed move had an immediate response. Major US stock indexes saw a quick slip in Chinese stock prices. The timing of the news was also very telling. China is about to start its 70th anniversary celebrations, with a week of festivities shutting down the entire economy for a week.
Alibaba, one of the world's biggest Chinese companies, saw a drop of 5.15 percent while JD.com dropped by 5.95 percent and Baidu saw its stock value go down by 3.67 percent.
Though the US treasury mentioned that there were no plans about any delistings, many financial experts were speculating about how delisting would work. This is not the first time that Chinese stocks have been threatened with delisting.
CNBC Television
In June 2019, bipartisan lawmakers introduced a bill that aimed to force Chinese companies that were listed on US stock exchanges to undergo regulatory oversight or they would be delisted. The oversight would mean regular audits and other measures that US companies would have to go through.
The Chinese government is very reluctant about letting overseas regulators look into Chinese companies, which is mainly because of national security concerns. However, American authorities want Chinese companies to comply with American laws that ensure companies are on the up-and-up.
With 156 Chinese companies on the NASDAQ, a delisting will have a major effect on the country's economy. The yuan immediately fell against the dollar when rumours of a potential delisting broke.
Negotiating Tactic
Most of the major stock exchanges made no comment regarding the delisting rumours. These potential rumours may have been a way to score points against China in upcoming negotiations. Trade talks are expected to take place between the two countries on October 10-11.
Scott Brown, chief economist at investment bank Raymond James, says that the threat of delisting is very disruptive and adds a bit of uncertainty in the upcoming negotiations. Both China and the US have taken similar aggressive moves in the past.
President Trump criticised Chinese trade practices at his recent UN speech but later changed his tune and announced the next day that he believed that the Chinese were willing to come to an agreement on the 15 month standoff.