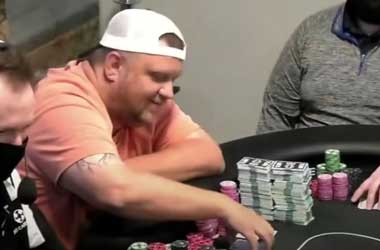 Summary
Taylor pleaded guilty to conspiracy to commit healthcare fraud and money laundering
The guilty plea was part of a plea deal that reduced his financial liability to $38 million
WSOP Bracelet Winner Also Charged with Fraud
Billy Joe Taylor, a poker player involved in a multi-million dollar healthcare scam, will be sentenced on March 8, 2023.
The sentencing hearing was set after Taylor, well-known in poker circles as "Bildo", agreed to a plea deal back in October 2022 where he pleaded guilty to felony charges of conspiracy to commit healthcare fraud, as well as money laundering.
Taylor Faces Up to 20 Years in Jail
The plea bargain reduced the 43-year-old's financial liability from $88 million to $38 million. He is due to appear before Judge Mark E. Ford in the Western District of Arkansas federal court in Fort Smith where he is expected to receive a maximum jail sentence of 20 years.
Taylor was accused of defrauding the US government out of more than $100 million via a massive Medicare scam. The Medicare program is a federally-funded health insurance scheme providing free or low-cost health care benefits to the elderly and people with disabilities.
Taylor conspired with several entities in submitting false and fraudulent claims to Medicare for COVID-19 laboratory tests that were never ordered by medical professionals, never conducted, and not eligible for reimbursements. Taylor carried out the massive fraud through multiple medical testing laboratories that he owned, including Vitas, Corrlabs, and Imaginus.
Taylor's illicit activities started in 2017 and continued through 2021, covering the pandemic period. In some instances, he used the names of dead people in making false claims.
According to court documents, the Lavaca Arkansas native used the money he illegally obtained to live a lavish lifestyle. He bought luxury vehicles, jewellery, and other expensive items using the proceeds of fraud.
As a poker player, Taylor played at the livestreamed TCH cash game show at Texas Card House. He became popular for his loose-aggressive play style, leading to him being described as a "special type of whale". But unbeknownst to the poker community, a huge portion of his wealth came from the Medicare fraud he had been running for four years.
WSOP Bracelet Winner Also Charged with Fraud
Taylor isn't the only poker player charged with fraud. World Series of Poker (WSOP) bracelet winner Corey Zeidman is due to face trial for his involvement in a $25 million fraud scheme that allegedly victimized sports bettors. Zeidman was accused of operating the scheme between January 2004 and March 2020. He pleaded not guilty to the charges.