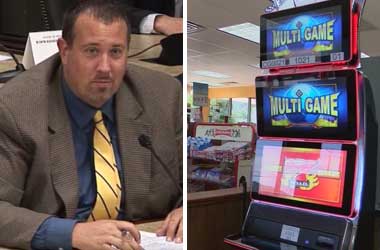 Summary
Rep. Seth Grove is set to introduce new gaming legislature
Grove wants to expand the truck stop VGT licensee market
Additional truck stop VGT providers will help boost state budget
Pennsylvania lawmaker Rep. Seth Grove, R-York, is in the process of introducing a new bill to eliminate the current diesel-selling requirement that truck stop licensees of video gaming terminals (VGTs) have to meet every month.
Truck stop licensees of VGTs are required to sell 50,000 gallons of diesel per month are current regulations.
The York County lawmaker added that the bill would also increase the number of truck stop video gaming licensees. The announcement was made amid the extended negotiations over the state budget.
Small Sellers to Benefit from Grove's Proposal
Grove made a logical argument saying that linking video game licensees to the commodities being sold was unreasonable. The lawmaker is seeking co-sponsors for his proposed bill at the moment. An insider commented that Grove's proposal would yield significant advantages for the small fuel sellers in York County.
Despite the support for the VGT expansion bill, several industry players challenged Grove's views on the matter. Peter Shelly from Pennsylvanians Against Gaming Expansion objected to the proliferation of skill games. He said that not only was the action of changing the language of the bill wrong, but it was also unclear in providing clarity on the number of terminals that will be permitted without the sales requirement.
Pennsylvania's gaming industry had raised $4.7 billion in revenue and $1.9 billion in taxes in 2021. Statistics from the Pennsylvania Gaming Control Board (PGCB) show that 65 video gaming terminal sites located around the state had earned monthly revenues of $3.46 million. The average tax revenue in a month during the fiscal year of 2021/22 was calculated to be $1.45 million per month.
Mike Barley, of Pace-O-Matic, emphasised that the bill should be discussed along with other laws related to gaming. Barley cited proposals by Rep. James Wheeland, R-Lycoming, and Sen. Gene Yaw to support his case for taxing and regulating skill-based gaming activities.
House and Senate Bills Connect Games to Control System
Senate Bill 950 and House Bill 2133 would necessitate connecting skill games to a control system. This is to allow the state a greater role in monitoring the revenue.
The state would also ensure the smooth payment of taxes. House Majority Leader Kerry Benninghoff, R-Centre, refused to comment on the co-sponsorship memo, authored by Grove but did acknowledge that the expansion of gaming was in the mix.