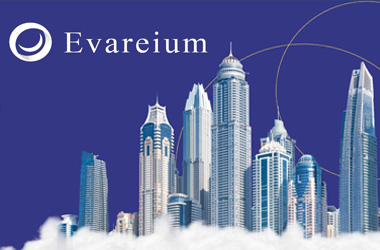 UAE-based Evarei, a real estate asset and management advisory firm, which has a track record of establishing and managing private equity funds, real estate investment trusts (REITs) and making direct investments in landmark projects totaling over US $700 million in value, aims to procure, finance and manage acquisitions in the real estate arena. In order to raise funds for the project, the promoters have launched the tangible asset-backed Evareium (EVM) token sale.
By investing in the EVM token, investors will have a chance to own a stake in lucrative property investments Evareium plans to undertake. The EVM token will be essentially the cryptocurrency of the acquired properties, leveraging value from rents and ancillary transactions flowing through the assets.
Class of tokens
One class of tokens shall be issued (EVM). Two separate token offerings – EVT and EVR – are intended for future ITO's and such will complement, intertwine and be intrinsically linked with the business model of EVM.
Evareium's objective
Disrupting the $700 billion global private equity real estate fund market on a large scale is the primary objective of Evareium.
Notable partners
Partners include Alex Norta of QTUM and Cedex fame, crypto asset and real estate entrepreneur, Phillip Nunn and Paul Moynan from the highly successful Dragon Coin Initial Coin Offering.
Investment strategy
• Acquiring real estate (with leverage)
• Grow cashflows and pay down debt – enhancing EVM Token holder equity, and bring asset up to full 'investment grade' standards.
• Implement the EVT Utility Token (bonus credit under the EVM Token offering) based on blockchain technology into the acquired assets. EVT will provide the transactional functionality of the real estate portfolio, leveraging value from transactions such as rents, service and maintenance fees and ancillary transactions.
Likely projects
Real estate (commercial, retail, residential, light industrial etc.), hotels, leisure projects, schools/academic facilities, healthcare facilities, completion capital, build to suit, Sale & Leaseback, value-add and niche asset opportunities, land-owner JV's and (potentially) tech/media project.
Investors benefits
• From EVM – investment returns generated from the acquisition of the portfolio, rental yields generated and gains on the eventual disposal.
• From EVT – through the intrinsic value from the build-up as a use-token and as the backbone to the transactional flows through portfolio assets along with the potential application to third-party property owners (currently under discussion with one party which manages 90 properties) for broader use beyond the Evareium real estate portfolio.
Investment Horizon
• 4 to 5 years holding/gestation period per individual investment.
Exit Route
• Exit at a superior valuation (e.g. over 6% yield) by virtue of the sale of the portfolio into a listed Real Estate Investment Trust (REIT) model (the EVR token) that the Manager intends to establish as a future token offering.
• The Manager will then return all net proceeds to the EVM trustee bloc entity and intends to reinvest the original capital in perpetuity, or return it to the EVM holders by way of a buyback (at the Manager's discretion).
Indicative EVM Holders' Returns Potential
• Estimated 370% to 500% capital return on the investments for EVM.
• Unbounded upside potential from EVM Holders' ownership of the token and the intended reinvestment of the capital thereof in perpetuity (assuming no buyback whereby a minimum hurdle rate would need to be met)
• Growth in value of the EVT token as its incorporation into real estate asset transactions build.
EVM blockchain
EVM Blockchain Limited is a Cayman Islands company which is to be the issuer of the Evareium fund offering. Evarei advises EVM Blockchain Limited on matters relating to the establishment of the Evareium real estate initiative and evaluates assets and projects suitable for Evareium.
Accreditations
Evarei won the award of 'Most Innovative Real Estate Fund of the Year — 2017' presented by International Finance and International Finance Magazine in January, 2018.
Dubai portfolio
Evareium has secured the rights to acquire its first US$ 20 Million real estate portfolio in Dubai. The portfolio comprises complete buildings totalling almost 700 apartments across two new up-and-coming master communities in Dubai involving exclusively asset-managed units. These fully leased, high-quality residential serviced apartment buildings involve a range of leased, asset-managed and owned spaces. Evareium intends to take a 100 percent interest in the operator of these assets through a leveraged buy-out of the asset owner's holding company during the second quarter of2018.
Token details
Name – Evareium (EVM)
Token Network – Ethereum ERC20
Quantity, Offer Rate and Accepted Currencies
Up to 150,000,000 EVM tokens to be issued at par value US$ 1 per EVM. Accepted digital currencies for the pre-ITO include Bitcoin and Ethereum.
Token Repurchase
The Manager intends to procure that the capital component of the Token Holders' interests is reinvested in perpetuity into new investments, although the Manager may alternatively elect to buyback the EVM tokens at fair market value (as to be determined at the time by the auditors of the Fund).
Fees
The following shall be deducted from EVM issuance proceeds over and above the initial US$
2,000,000 equivalent raised:
• 1% One-off arrangement fee;
• 2% Annual management fee for the duration of the Fund; and
• 20% Carried interest on net realized gains on investment achieved by investments (hurdle rate 6%).
Up to 10 percent of funds raised under the offering may also be utilized to pay technical, sales, marketing, legal and other charges.
Total Issuance – Tranches, Discounts
Up to 150,000,000 EVM are proposed to be issued in three tranches on the following basis:
• EVM will be offered on an exclusive pre-ITO basis for US$ 0.70 equivalent (representing a 30% discount).
• Secondly, up to 30,000,000 EVM will be issued at a 15% discount
• Thirdly, up to 110,000,000 EVM will be issued at the US$ 1 par value
• Whatever EVM tokens are then left unsold (if any) will be discarded/burnt.
Proponents of the project
The project is managed by seasoned professionals with 40+ years combined investment and asset/fund management expertise in the UAE/GCC region (50+ years globally), combined with Blockchain experts and leading token asset issuance professionals.
By leveraging blockchain-based funding, the project proponents are enabling token holders to access the benefits that exist in specific segments of the real estate sector in vibrant growth markets. Instead of investing capital directly into a single real estate asset, investors can avail the substantial benefits of managed diversity through the EVM offering.