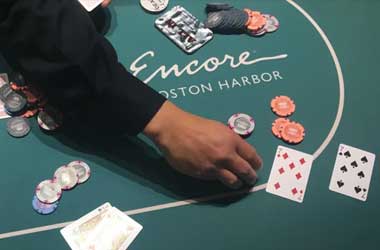 Summary
The MGC is disappointed with the limited poker tables running at both casinos
There are just 27 combined poker tables available across the commonwealth
The Commission says it will address the issue
Almost a year after Encore Boston Harbor and MGM Springfield were approved to reopen, both casinos have yet to fully restore their live poker operations.
The issue was raised by the Massachusetts Gaming Commission (MGC) during a meeting with gaming agents this week in which they discussed the status of poker throughout the state.
Encore Boston Harbor was running 74 poker tables pre-pandemic, while MGM Springfield had 21. Live poker was originally available 24/7 before casino operations were put to a halt in 2020 due to COVID-19.
Both casinos have since reopened – MGM began welcoming back poker customers in October 2021 with 14 tables open daily between 11 a.m. and 3 a.m., while Encore Boston brought back its poker offering in January, operating 13 tables available Monday to Thursday from 10 a.m. until 8 p.m.
But to this day, the availability of poker at both casinos remains limited, leaving players disappointed. Commissioner Brad Hill expressed dissatisfaction at the current poker set-up, with just 27 total tables running throughout the commonwealth.
The Commission is questioning both casinos for opening insufficient poker tables for a limited number of hours when they were already permitted to operate at full capacity. Commissioner Eileen O'Brien is hitting out at Encore in particular for running just 13 out of the original 74 tables before the pandemic, which is in contrast to the representations made by the property in its application to reopen.
Encore previously promised to designate an exclusive poker area housing 25 tables that offer the most popular poker games. Meanwhile, MGM stated in its application that it would operate a 25-table poker room.
Casinos Should Abide By Application Statements
Massachusetts Gaming Commission can put pressure on these casinos to adhere to their application statements as it is part of their license conditions. Failure to do so will put them at risk of having their licenses revoked.
During the meeting on April 28, MGC Chair Cathy Judd-Stein recommended a further review of the casinos' application language. The issue is expected to be addressed when both establishments submit their next quarterly reports to the commission.
Another concern raised during April 28's meeting was the increase in rake at Encore. The casino previously charged a rake of 10 percent up to $6. Now, it has gone up to $10.