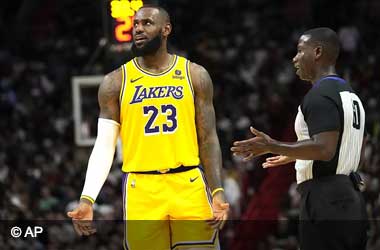 Summary
Lakers currently have a 3-4 record this season, losing their last game to the Heat
Lakers lost 108-107 and felt they were wronged by poor officiating, especially over Lebron James
The NBA has been contacted with video evidence for them to look into numerous missed fouls
The LA Lakers haven't had a great start to the NBA season and currently sit in 10th place on the Western Conference points table having won 3 games and lost 4.
They have lost their last two games with their latest loss being against the Miami Heat. It was extremely close game that the Heat ended up winning 108-107.
Referees Ignore Multiple Fouls On Lebron James
The Lakers felt that they got the short end of the stick with the officiating as they the match officials missed a number of fouls, especially on NBA All Star Lebron James. Those missed fouls ultimately ended up making a big difference in the end result and it was frustrating for Lakers coach Darvin Ham.
BRON GOT SMACKED IN THE FACE… NO FOUL. pic.twitter.com/oAWg2tPBR6

— Lakers All Day Everyday (@LADEig) November 7, 2023
Ham was very vocal in protesting during the game over the missed fouls and that resulted in him getting a technical foul – which was only the third time in his career that he has got a technical foul and the very first this season.
In a statement, Ham said
I see Bron shooting four free throws and the amount of times he attacked the rim, the amount of times he was slapped on the arm, which I could see plain as day, for that not to be called, man … he's not flopping. I'm watching him go to the hole strong.
The Lakers have reached out to the NBA and sent them a number of video clips showing Lebron James being fouled and the officials not calling it. Those video clips include fouls committed by Duncan Robinson and Thomas Bryant. In the NBA's Last Two Minute Report, the league indicated all referee decisions were correct.
LeBron James Frustrated Over Poor Officiating
Lebron James was also clearly frustrated during the game against the Heat and after the match with the end result. The NBA All Star did not mince words about how disappointed he was with the officiating.
In a statement, Bron said
What they're telling me is not consistent with what's actually happening on the floor. When I went for the dunk attempt against Thomas Bryant, he clearly elbowed — like, arm straight across my face. And I asked him for the explanation — well, one of the refs said that he was straight up, hands straight in the air. Two of the refs said they were blocked and they didn't see it.