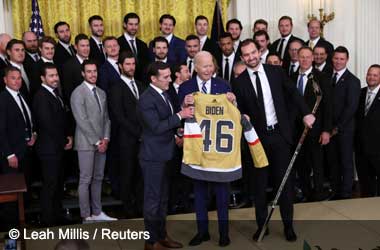 Summary:
NHL Champs Vegas Golden Knights makes a trip to the White House
Knights captain Mark Stone said he was overwhelmed by the occasion
Joe Biden refers to VP Kamala Harris as the President yet again
The 2023 NHL Stanley Cup champions made their way to the White House on Monday night to honour the age old tradition of a champion league's team visiting the White House, meeting the President of the United States and handing over a signed Jersey.
The Vegas Golden Knights defeated the Florida Panthers in June 2023 4-1 to win the coveted Stanley Cup and made the trip to the White House on Nov 13 to meet with President Joe Biden, Vice President Kamala Harris and other dignitaries.
Captain Mark Stone Overwhelmed By The Occasion
Vegas Golden Knights captain Mark Stone is not overwhelmed by a lot of things and is usually cool and composed when he plays in front of a packed stadium. However, Stone looked rather nervous and admitted the same when he spoke at the White House.
In a statement, Stone said
We all come here in awe of this beautiful place and have such respect for you and the office that you hold. It's a lot easier playing hockey in front of 20,000 than this – can confirm that. It's an honour to speak on behalf of not only my team mates but the entire organisation and the city of Las Vegas – of course, an amazing city, the entertainment capital of the world.
The Vegas Golden Knights handed over a signed jersey along with a golden hockey stick to President Biden.
Biden Forgets He Is The President
President Biden who will turn 81 on Nov 20 once again fumbled around with his words and referred to rasgula
Vice President Kamala Harris as the President. This isn't the first time that Biden has referred to VP Harris as the President as he has done so on 5 previous occasions as well!
In his speech, Biden said
Welcome to the White House, the 2023 Stanley Cup champion Vegas Golden Knights! President Harris is here to make sure we do this the right way.
Biden is currently the oldest President of the United States and is looking to potentially run for a second term as his doctors have given him a clean bill of health!