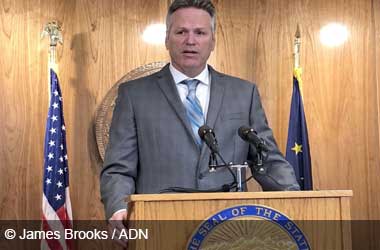 The state of Alaska has traditionally relied on oil for revenues, but is now searching for new revenue streams in the midst of consistent budgetary constraints. Governor Mike Dunleavy (R), has proposed the introduction of a lottery (The Alaska Lottery Corporation Act, SB 188/HB 246) to generate revenue that could help the state attain fiscal security.
Dunleavy's lottery suggestion comes in the wake of intense public scrutiny over the sweeping budget cuts he planned last year, prompting a recall effort against his office currently stuck in the judiciary system. Dunleavy's new budget proposal no longer features sweeping budget cuts, but does extract heavily from savings. State lawmakers have now spent billions in savings attempting to resolve budget issues stemming from flagging oil prices.
There is no clear picture as of now to what kind of a lottery Alaska wants to have. A lottery corporation has not yet been created to answer this question. Draw games are to generate an additional $5 million to $10 million annually—more revenue could be generated by adding different types of games. Currently, only charitable games are allowed in the state, such as bingo games.
KTVA News
Juneau State Senator Jesse Kiehl (D) stated that Dunleavy's proposal fails to address the state's fundamental fiscal weakness. Instead, Kiehl suggested that Alaska is in dire need of systematic tax changes, such as modifying the tax structure for oil, and instituting broad-based taxes, such as an income tax. Alaska has no income or statewide sales tax.
The North American Association of State and Provincial Lotteries noted that Alaska is just one of five states without a lottery—previous attempts to develop a lottery in the state have failed.
Dunleavy's Bill Second Lottery Bill in Alaska
House Majority Leader Steve Thompson (R) has also filed a lottery bill this year. He praised Dunleavy's bill, admitting that, while $10 million annually would not be enough to fix all of Alaska's budget issues, it would be a substantial help.
Thompson's bill would create a lottery corporation that would administer different types of lottery games, both in-state and multi-state, but would disbar them from operating video lottery terminals or scratch-off ticket games. Dunleavy's bill states that the lottery proceeds will be earmarked toward a fund for education endowment and social programs geared toward drug abuse, foster care, domestic violence, homelessness, and senior services.