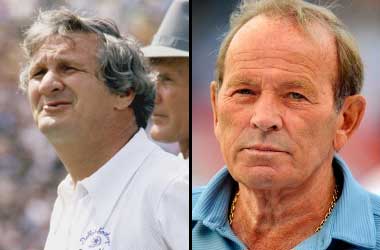 The Pro Football Hall of Fame doesn't just honour those who achieved great things on the gridiron. It also recognizes others who have made significant contributions to the game from the sidelines. Gil Brandt and Pat Bowlen are two such people.
It was just announced that the two football pioneers have been nominated for induction. They will need to get 80% of the 48-member selection committee's votes in February on the eve of the Super Bowl to be inducted.
These days Gil Brandt works as a consultant to the NFL but it was during his time as the vice president of player personnel with the Dallas Cowboys that he changed the way scouting was done.
Between 1960 and 1989, Brandt was instrumental in growing the Cowboys into one of the most popular and potent franchises in American sports. He started using computers extensively and obsessively scouted traditionally black colleges to find talent. He also created a large team of informants which helped root out diamonds in the rough at the college level.
His modern approach brought scouting out of the stones age. His use of psychological testing was an innovation that is commonplace today as is his old habit of scouting outside of North America. In his 29 years with Dallas, the Cowboys made it to the Super Bowl 5 times and came away with a pair of titles. With Brandt, Dallas racked up 20 straight winning seasons and 18 trips to the playoffs.
CBS Denver
Pat Bowlen
Pat Bowlen bought the Denver Broncos in 1984 and he has become one of the league's most successful owners. Since purchasing the team, Denver has gone on to post the NFL's top winning percentage and the second-best total winning percentage. The Hall of Fame nominee is the only owner in the league's history to amass 300 wins in his first 30 years. Only Robert Kraft's Patriots have more Super Bowl appearances.
Amazingly under Bowlen, the Denver Broncos are the only NFL team to not have two losing seasons in a row. While Bowlen is still the owner of the franchise, he handed over control of the organization's day-to-day operations to CEO Joe Ellis in 2014 after the effects of Alzheimer's disease forced him to. Ellis has stated that he is thrilled for Bowlen and his entire family and acknowledged Bowden's contributions. He added that Bowlen is very deserving of the nomination.