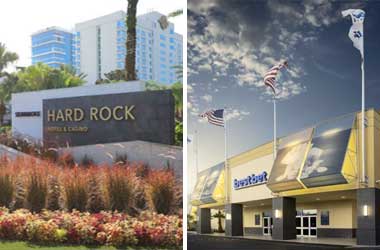 Two poker rooms in Florida have been given the green light to resume operations this week.
Seminole Hard Rock Hotel & Casino Tampa and Bestbet Jacksonville will reopen their doors to customers on May 21 and 22 respectively, but major changes will be implemented in accordance with strict restrictions to prevent the spread of COVID-19.
The two poker rooms are among the biggest in the state, with Bestbet housing 70 poker tables, and Seminole operating 46 card tables, but it's understood they will operate at reduced capacity as part of measures to protect players and staff from contracting the deadly virus.
Customers, casino employees and staff, and any other individual entering both establishments will be required to comply with temperature checks at entry points, and should wear a protective face mask. Additionally, the two casinos will also implement strict social distancing and will install accessible sanitation zones throughout their respective facilities.
Announcing the news on Twitter, Bestbet informed patrons that the facility will enforce enhanced safety guidelines upon reopening, but the casino has yet to release specific guidelines with regards to table limits in poker games.
We are excited to re-open on Friday, May 22nd at 10 a.m. Anyone who enters our facilities will need to wear a protective face mask. All poker games will be played six-handed and all Florida Games will be played five-handed including the designated player. https://t.co/znZGZAyEJj pic.twitter.com/7XjDqwzqm4

— bestbet Jacksonville (@bestbet_jax) May 19, 2020
Over at Seminole Hard Rock Tampa, players will need to get used to playing with plexiglass dividers at the tables to make sure proper social distancing is observed.
FOX 13 News – Tampa Bay
Coronavirus Threat Remains
Florida is among the first states to give approval for the reopening of local casinos. While the state is keen on reviving its economy the soonest time possible, threat still lingers, especially as it has one of the highest number of COVID-19 cases in the country, with nearly 47,000 confirmed cases recorded as of this writing, including more than 2,000 deaths.
Casinos in other states are also slowly reopening. Jamul Casino, located in San Diego, California, will fully reopen on Thursday, May 21, though it already accepted select customers on Monday. The casino operates 10 poker tables. In Nevada, home of some of the biggest and most iconic casinos, there are speculations that some gambling establishments may reopen as early as next week.
While it is positive on one side to see so many poker rooms in the country willing to push forward and reopen for business, there is also concern that they might be jumping the gun. It is hard to tell how things are going to turn out but we will not have to wait long to find out!
Why not stay at home instead and play online poker especially for Florida residents..