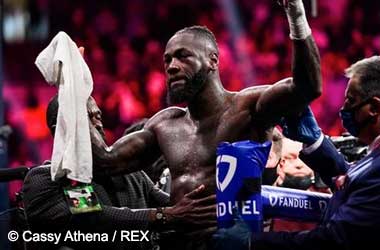 Summary
Deontay Wilder opens up for the first time after Tyson Fury loss
Wilder says no plans to retire as he is still motivated to fight
Wilder plans return in 2022
Deontay Wilder and Tyson Fury put on an epic battle in their trilogy fight on Oct 9, 2021, a fight that will go down as one of the "best heavyweight fights in history".
Wilder once again came out on the losing side after the Gypsy King knocked him out in the 11th round.
The bad blood between the two fighters was evident after the fight as Wilder did not shake Fury's hand and claimed that he still did not respect him. However, a few days later Wilder took to social media to congratulate Fury and bury the hatchet as he knows that he will never fight Fury again.
Wilder Has No Plans To Retire
Critics and even some of Wilder's fans were under the impression that Wilder would likely retire after his second consecutive loss to Fury. The 36 year old has made his fair share of money during his impressive boxing career and stayed at the top for a long time, till Fury dethroned him.
The first time Wilder lost to Fury, he made a lot of excuses and blamed the weight of his walk-out costume, his trainer spiking his drink and Fury hiding something inside his gloves. Wilder has stayed silent since his loss to Fury but recently gave his first interview and let his fans know that he has no complaints this time around. He told his fans that he feels great and even though the fight did not go his way, there were a lot of lessons that he learned from the fight.
Wilder Plans To Fight In 2022
Wilder admitted that he broke his hand during the fight and is not able to train as he needs to recover from his injury first. Wilder said he still had a number of goals left to accomplish in the boxing ring and the motivation for him to train was still very much present.
Wilder has no plans to retire as of now but plans to make his comeback in 2022, although no date has been set as of now. Wilder finished his interview by promising his fans that the best is yet to come!
TELLI SWIFT