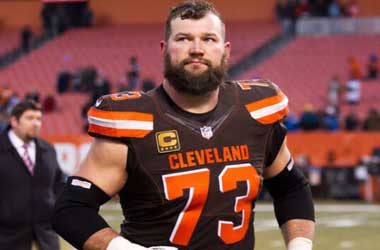 Cleveland Browns have gone used to having the services of their experienced left tackle Joe Thomas who has been with the team for the last 11 seasons. Thomas who has had a good run with the Browns made a surprise announcement on Wednesday and confirmed that he has decided to retire and not play the next season.
Cleveland will now have to make plans to get a suitable replacement for Thomas who said that his decision to retire at the age of 33 was brought on due to the multiple injuries that he has had to battle throughout his NFL career. His injuries include a torn bicep and a dodgy knee that most likely needs replacement surgery.
In a statement, Thomas said
Knowing my body, I don't think I was going to be able to make it through another season. No matter how much they were going to pay me, no matter how good the team is, it was not a matter of me being upset at the organization, sick of losing or my contract. I just don't think I could do it anymore. My mind is willing, but my body says enough
Cleveland Browns
Cleveland Sign Carlos Hyde
Cleveland went after Carlos Hyde, the former running back of the San Francisco 49ers and finally managed to sign him. Hyde is expected to sign a three year deal with Cleveland Browns that is estimated to be around $15 million. He will receive $6 million during his first year with Cleveland. Once Hyde signs on the dotted line, Cleveland will then have Duke Johnson and Hyde in their team and might not be so keen on going after Barkley.
The Browns also expressed interest in signing Saquon Barkley who played college football for Penn State as a running back. Barkley is being pursued by other NFL franchises including the New York Giants. However, someone close to Cleveland Browns has stated that even with Johnson and Hyde on board, Cleveland will still do its best to sign Barkley who many believe is the best player in the draft.
Cleveland will welcome a number of new players this season which includes Tyrod Taylor – quarterback, defensive backs Terrance Mitchell and Damarious Randall and offensive lineman Donald Stephenson and Chris Hubbard.