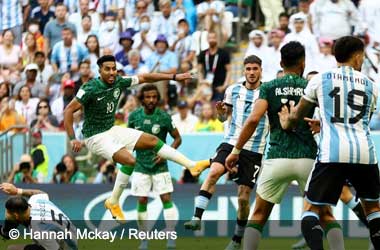 Summary
Saudi Arabia shock Argentina with a 2-1 win
Saudi King announces national holiday on Nov 23 to celebrate win
Saudi Arabia's win tarnished a bit by horrific injury to Yasser Al Shahrani
Argentina were expected to have an easy opening game against Saudi Arabia as Argentina are a powerhouse in world football while Saudi Arabia are still considered minnows.
Sportsbooks had Argentina as massive betting favorites to win the competition and the match while Saudi Arabia were written off.
Saudi Arabia Shock Argentina With A 2-1 Win
Saudi Arabia have qualified consistently for the last 9 World Cups but have only once made it through to the playoffs and that was back in 1994. One reason for that is because they struggle against the more accomplished teams in the group stages.
Saudi Arabia had a massive test in their opening game of the 2022 FIFA World Cup. They took on Argentina on Nov 22 and were expected to lose as sports betting sites have Argentina among the top 5 teams expected to win the World Cup.
Argentina were quickly 1-0 up on the scorecard after Saudi Arabia conceded a penalty. The penalty was unfortunate for Saudi Arabia as it involved pushing and shoving in the penalty box. Lionel Messi opened his World Cup campaign after converting the penalty and giving Argentina a 1-0 lead.
Argentina would go on to score 3 more goals during the match but all three were turned down due to the off-side rule. Credit must be given to Saudi coach Hervé Renard who set a perfect off-side trap for Lionel Messi and co and his players executed it perfectly.
Saudi Arabia came out firing in the second half and played aggressive football to catch Argentina off-guard. Argentina were under pressure quickly after Saleh Alshehri and Salem Aldawsari scored and turned the match in Saudi Arabia's favour. Saudi Arabia eventually went on to win 2-1 and have caused the biggest upset at the World Cup so far.
Saudi King Declares National Holiday On Nov 23
Crown Prince Mohammed bin Salman was ecstatic to see his country defeat a heavyweight like Argentina and to celebrate the win, he announced a public holiday in Saudi Arabia on Nov 23.
Saudi Arabia's win was tarnished a bit by a horrific injury to Yasser Al Shahrani who collided with his own goalie. On instructions of the Saudi Prince, he was flown to Germany for emergency medical treatment.