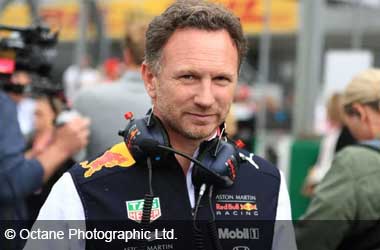 Red Bull's principal Christian Horner believes that the owners of Formula One (F1) will intervene and assist teams who are at risk of going under due to the ongoing COVID-19 shutdowns.
All F1 teams have experienced revenues coming to a standstill due to social distancing rules. Horner is confident that F1's parent company Liberty Media will help struggling teams to prevent F1 from falling apart.
F1 has already cancelled nine grand prix races this season. Because race earnings are a major component of teams' revenues, smaller teams are at risk for going under. F1 has just 10 teams, with zero plans for adding more in the near-future.
The resumption of the 2020 F1 season is far from certain. Horner said that Liberty would protect its business by helping protect the future of its 10 teams, in order to ensure that all of them will be able to compete at full power next season.
Sky Sports F1
According to Horner, it would be in Liberty's best interest to provide financial help to struggling teams, to make sure that the F1 season after COVID-19 will be as exciting as it was before for the fans.
Horner also contended that F1's current tries at mandating a smaller budget cap relies on an assessment that is too conservative in alleviating COVID-19's effects. The budget limit for 2021 is set at $175 million. McLaren has fought to lower the budget cap to $100 million. The three largest F1 teams which are Ferrari, Mercedes and Red Bull spend north of $400 million a year.
The Red Bull head argued that some teams may be using the current budget cap discussion to achieve a competitive edge on other teams. According to Horner, the budget cap issue is essentially about competitiveness, rather than budgets. The budget cap must be set to allow smaller teams to compete on an even footing, not to restrain teams with larger budgets.
Customer Cars Could Serve as Short-Term Solution
The latest F1 meeting failed to produce a consensus on the matter of setting a cap of $145 million and then being reduced to $130 million after one season. There was no consensus due to the big three teams arguing that they need at least $140 million to defray their development and operations costs, as opposed to the lower costs associated with other teams.
Horner also expressed openness toward using a full customer car for the next two F1 seasons to help smaller teams reduce their research and development costs, and just run as race teams. Customer cars are a controversial choice in F1, but Horner believes that F1 should be open to radical ideas in the face of COVID-19.