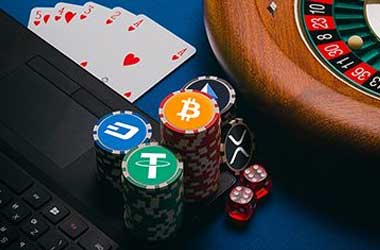 The cryptocurrency based gambling market has recorded a stable growth in the last few years and professionals have assessed that gambling focused cryptocurrencies command an aggregate value of more than $150 million.
The market survey also disclosed that the crypto based transactional volume per day surpass $3 million, while the count of players who prefer to use blockchain casinos has exceeded 30,000 on a per week basis.
The overall size of the international gambling business continues to rise. Three years back, the size of gambling industry was roughly $450 billion. Experts anticipate the value of market to reach $565 billion in the year ahead.
A recent survey also indicates that the size of crypto gambling sector has eclipsed the entire gambling industry during October 2020-January 2021 period by a margin of 6%.
Furthermore, in addition to the 42 cryptos that back the gambling sector, there are many factors that pave way for the advancement of blockchain technology based online gaming industry.
Punters and players who regularly play online would be well aware of the fact that there are two kinds of betting sites that processes payments – hybrid and crypto-only platforms.
As it can be understood from the name, crypto-only sportsbooks and online casinos permit their clients to make payments solely via digital currencies. Notably, several gambling enthusiasts seem to hesitate from using crypto based platforms because of the limited number of games and banking solutions.
Crypto based online casinos or sportsbooks certainly offer some advantages. One of the notable advantages is that the players do not need to validate their identity. This permits them to retain privacy at any given point of time, a big benefit for gamblers that reside in countries which have laid out strict measures to curb such kinds of entertainment.
The second notable advantage of crypto-only online casinos is that players are provided with a second layer of security in the form of provable fair games. Therefore, players will not feel uncomfortable while playing any of the online games offered by crypto-focused casinos. However, the overall experience requires further improvement.
The demand for cryptocurrency based betting platforms is rising, with large number of players looking for operators posing a crypto friendly stance, while operators are exploring various options to fulfill the rising demand. Therefore, it is reasonable to anticipate that the cryptocurrency gambling market will be growing and expanding in the forthcoming years.