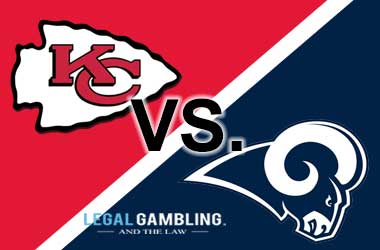 The long anticipated matchup between debatably the 2 best teams in the NFL kicks off Monday night in Mexico City Los Angeles. The Chiefs lead the all time series 7-4, and have won 6 straight dating back to 1997.
The Chiefs won last week 26-12 over the Cardinals in what many thought would be a blowout. In week 8, the Chiefs beat the Broncos 23-30, and beat the Browns 37-21 in week 9.
The Rams won an emotional game 36-31 over their bitter rival Seahawks last week. In week 8, they beat the Packers 29-27, and lost to the Saints 45-35 in week 9.
Intertops have the Rams as 3.5 point favourites, with an O/U of 64(!!).
Kansas City Chiefs
The Chiefs offense is really a thing of beauty, and Patrick Mahomes makes it all tick. Andy Reid does a great job of putting his players in positions to succeed, but Mahomes is making throws I've only seen one other QB make in my lifetime (Aaron Rodgers). Mahomes leads the league in yards (3150) and TDs (31) and has only thrown 7 picks, while completing 67% of his passes for 9.1 YPA (3rd). His top targets are Tyreek Hill (55/891/9) and Travis Kelce (57/787/6), but Sammy Watkins (39/515/3) provides an excellent #3 option and Kareem Hunt (23/337/6) is a dynamic threat out of the backfield. Hunt is the teams leading rusher, rushing 167 times for 754 yards and 7 TD, with 551 of his yards coming after contact.
With as much that has been made of how bad the Chiefs defense is, they are middle of the pack in terms of points at 24 PPG allowed, but are allowing a 5th worst 289 yards passing per game and 16 TDs. They are 10th worst in defending the run, allowing 121.7 yards per game and 12 (3rd worst) TDs on the ground. The Chiefs do a nice job of creating turnovers, picking off 11 passes and recovering 4 fumbles on the year, and are tied for 1st in sacks with 31.
Injuries and Inactive Watch
WR Sammy Watkins (foot) – questionable, C Mitch Morse (concussion) – questionable
Los Angeles Rams
With all that is being made of the Chiefs offense, the Rams is almost equally impressive, but in different ways. On a throw for throw basis, Jared Goff may not be slinging it like Mahomes, but is still incredibly efficient and effective at throwing the ball down the field. Goff is second in the league in passing yards (3134), 3rd in TDs (22), has thrown just 6 interceptions, is averaging 9.4 yards per attempt, good for 2nd best, and is completing 68.4% of his passes. Robert Woods and Brandin Cooks are the two main beneficiaries at this point, with Cooper Kupp lost for the season with a torn ACL. Woods has 53 receptions for 832 yards and 3 TDs, while Cooks has 51 receptions for 857 yards and 3 TDs. Tight Ends Gerald Everett and Tyler Higbee, as well as reserve receiver Josh Reynolds (33/394/5 combined) are expected to step up to replace Kupp's production. Todd Gurley is a dual threat out of the backfield, rushing 198 times for 988 yards (1st) and 13 TDs (1st), as well as catching 40 balls for 402 yards and 4 TDs.
While the Rams defense hasn't lived up to the hype preceding the season, they are still a formidable unit, allowing a 12th best 23.1 PPG. They are 11th in terms of defending the pass, allowing 233.1 yards per game and 19 TDs through the air. Their run defense is 9th worst, allowing 122.1 yards per game and 9 TDs on the ground. They do their fair share of forcing turnovers, picking off just 7 passes but recovering 8 fumbles, and are in the top 10 in sacks with 26.
Injuries and Inactive Watch
WR Cooper Kupp (knee) – out, CB Aqib Talib (ankle) – out
Predictions
This is going to be a fun one, and we can't wait. Both offenses are unreal, and I think this game comes down to who can make an impact play or 2 on the defensive end. The Chiefs have done a very good job of taking care of the ball, and their offensive line is solid, but Aaron Donald is the best defensive player in the NFL and you know he is going to rise to the occasion. You also cannot discount the Marcus Peters revenge game factor, and even though he has struggled in man to man this year, he is still a big play
waiting to happen.
The Rams offense most would argue is more balanced than the Chiefs, as Andy Reid can get a little excited sometimes and ignore the run. As long as this game is within reach, Todd Gurley will be a huge factor against a shaky Chiefs' run defense. However, you cannot discount the fact that Bob Sutton sells out hard on 3rd downs to get his defense off the field, and the Chiefs pass rush is a legit threat. If this game were played in Mexico City, we would be more inclined to give the Chiefs an edge. However, with the game being moved to LA, and the Rams organization making a huge effort to get local first responders and wildfire victims to the game, it gives the Rams a bit more to play for. As we said, we think this game comes down to the defense that can make a play in crunch time, and for my money, that's Aaron Donald and the Rams.
Final Pick: Rams (-3.5)