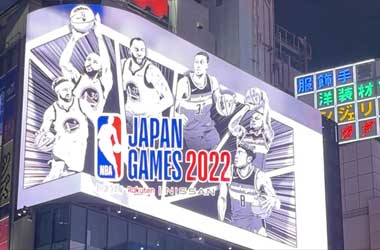 Summary
The Wizards will play the Warriors in two NBA preseason games in Japan
The league is aiming to grow its fan base in Japan and draw more sponsors
Japanese carmaker Nissan and e-commerce company Rakuten are sponsoring the games
The NBA returns to Japan to hold the first two games of the 2022-23 preseason, with the first match taking place today, Friday, September 30, between the Washington Wizards and reigning champs the Golden State Warriors. Both teams will take on each other once more on Sunday, October 2.
Japanese basketball fans will flock to the Saitama Super Arena outside of Tokyo to see their NBA idols in person. The Wizards have a Japanese player on their roster, 24-year-old Rui Hachimura, who was drafted by the team back in 2019. Hachimura, along with Stephen Curry of the Warriors, will be the headliners in the match.
NBA Banking on Basketball's Popularity in Japan
Basketball may not be as popular as baseball and soccer in Japan but it has a huge fan base in the country, and the NBA is aiming to tap into that market, similar to what they did in 2019 with their first games in India.
Choosing the country as a venue for NBA preseason games will help attract more Japanese people into the sport and it will benefit the league in the long run, as it would lead to more sponsorships, increased media rights, and bigger merchandise sales, according to Bob Dorfman, sports analyst at Pinnacle Advertising.
The last time the NBA held preseason games in the country was in 2019, before the pandemic.
Among the major sponsors for this year's preseason games in Japan is Japanese multinational automobile manufacturer Nissan. It's the first time that the company is sponsoring NBA games.
Japan's interest in basketball and the NBA was at its peak during the Michael Jordan era in the 90s. When he retired, the league's popularity in the country also waned. But over the past few years, the NBA has been back in the mainstream once again, especially after Hachimura made it to the Wizards three years ago.
Junya Ogura, senior manager at Nissan's brand and media strategy department, believes the NBA will enjoy a resurgence in popularity in Japan in the near future, given that it is being patronized by younger audiences.
Japanese e-commerce and online retailing company Rakuten is also sponsoring the NBA Japan Games 2022 and will live-stream the Wizards vs. Warriors matches. The firm has an existing marketing deal with the NBA which started in 2017. It has been broadcasting NBA games since 2019.
Tickets Sold Out
The NBA has attracted more than a dozen marketing and promotional partners for its preseason games in Japan, which include Nike, Hennessy, NEC and American Express.
Tickets for the games which cost up to 420,000 yen ($2,900) are already sold out.