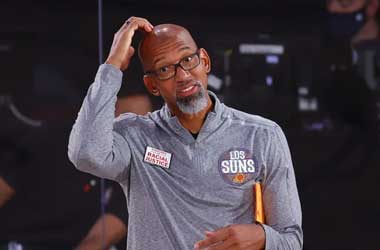 Summary
HC Monty Williams recognized as NBA Coach of the Year
This is the first Coach of the Year award for the Phoenix Suns coach
Williams won the award by a huge vote difference
Phoenix Suns' head coach Monty Williams earned his first "Coach of the Year" title when the National Basketball Association (NBA) awarded him the prestigious Red Auerbach Trophy.
When the NBA announced the news, Williams' family and team were absolutely delighted to see him get the award for the first time.
Williams beat Miami Heat coach Erik Spoelstra and Memphis Grizzlies' Taylor Jenkins in a landslide victory.
The 50-year-old scored 458 points in a ballot where 100 sportswriters and broadcasters had voted. Williams earned 81 first-place votes while Jenkins and Spoelstra came second and third, respectively. Under Jenkins, the Grizzlies had established a record of 56 wins. Spoelstra led the Heat to establish the best record in the Eastern Conference despite Miami's key players being injured. Williams will now feature alongside Phoenix coaches Cotton Fitzsimmons (1988-89) and Mike D'Antoni (2004-05), who had also won the coveted title.
Last season, Monty Williams lost the title to New York Knicks head coach Tom Thibodeau by 11 points. Under him, the Suns finished with an NBA best regular-season record of 64-18. The team featured as a top team in the Western Conference playoff, making a record of playing 18 games consecutively. In November 2021, the team tied with the Atlanta Hawks for the second most unbeatable wins in a month without a single defeat in the NBA.
Williams Gets Due Recognition
Ever since he was awarded the "National Basketball Coaches Association Coach of the Year" in March 2022, Williams has been on a roll. Currently, in his eighth season as an NBA coach, he coached the New Orleans Pelicans from 2012 to 2015. The career 322-299 coach is in his third season with the Suns. Before 2021, the team was led to the 1993 NBA finals by Charles Barkley and had won over 50 matches in the regular season.
Expressing his gratitude upon receiving the award, Williams said that the Coach of the Year title exemplified the essence of being a team. In his view, NBA coaches motivate players to push harder. Williams thanked Phoenix Suns owner Robert Sarver, general manager James Jones, and the team's staff and credited them for his success.