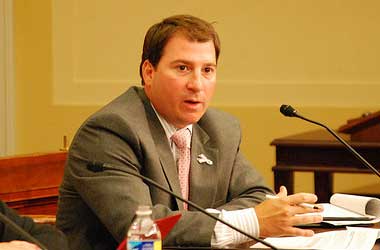 Long-time Executive Director of the Poker Players Alliance (PPA) John Pappas has announced plans to step down at the end of February.
Pappas led the PPA for more than a decade and played a key role in the last ten years to fight numerous challenges that the US poker industry faced.
One of the most notable hurdles faced was Black Friday when the US Department of Justice (DOJ) cracked down online poker operations in 2011. This sent billions of dollars into limbo and was a severe hit on the poker industry.
Boasting a million members all over the United States, the PPA has under its umbrella online poker players, poker lovers, and poker professionals who are all dedicated to promoting the game and ensuring poker players' rights are respected. Under Pappas' leadership, this mandate has been followed and several achievements were made during his tenure. Some of the highlights include the return of over $120 million to players caught up in the Black Friday scandal and the massive campaign that the PPA carried out to push for the successful legalization of online poker in four states.
In a statement, Linda Johnson, Poker Hall of Famer and the PPA's longest-serving board member said:
Under his guidance, PPA has emerged as a policy advocacy and the grassroots powerhouse in Washington D.C. and in state capitals across the country. He leaves the organization in a strong position to continue to ensure that consumer voices drive the internet gaming debate
Pappas hasn't provided an explanation as to why he decided resign from the PPA but did confirm that he won't be distancing himself. He will still stay on the board in an advisory position. Rich Muny will be taking over as executive director of the PPA. Muny has been a great advocate of poker players' rights since 2006. His commitment to the cause saw him rise to his current position as the PPA's vice president of player relations in 2011.
There are certainly many challenges facing Muny as he takes the reins. In recent months, the PPA has been shifting its financial focus. It is currently experiencing lesser financial support from the online poker industry which has forced the PPA to move towards a more cost effective approach. The PPA played a major role in pushing forward the legalization of online poker in Pennsylvania which took place in October 2017.